House of Reps Speakership: Sanwo-Olu hosts Abass, Kalu, harps on indivisibility of Nigeria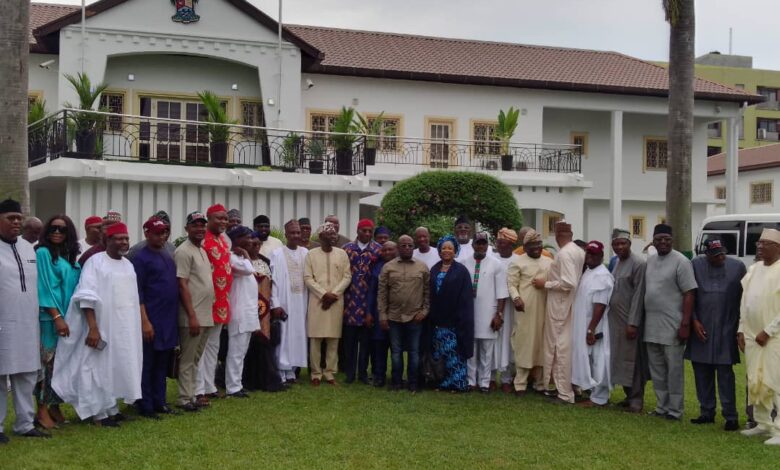 As the jostle for the leadership positions in the National Assembly hots up, Lagos State Governor, Mr. Babajide Sanwo-Olu on Saturday stressed the need to give priority to the nation's unity in diversity in the zoning and contest for the various positions.
Governor Sanwo-Olu stated this when the Speakership aspirant, Hon. Tajudeen Abbas and the deputy Speakership aspirant, Hon. Ben Kalu led other members of the 'Joint Task', a coalition of elected lawmakers who have pledged to support the choice of the All Progressives Congress (APC) in the leadership tussle on a courtesy visit to the governor at the Lagos House, Marina.
It would be recalled that the APC had zoned the positions of the Speaker and Deputy Senate President to the North West.
Governor Sanwo-Olu, who lauded the lawmakers for starting their courtesy visit and engagement with Lagos State, said he has been watching the ongoing scheming in Abuja by the House of Representatives members-elect over leadership positions.
The governor said: "I urged you to ensure that the leadership and the followership reflect the unity of our country, reflect the true federal composition and political composition that we have in the country.
"Listening to the introduction here today, I have seen diverse party men and women . I think that will be the first starting point. We have seen enough diversity; we have seen enough representations from all of the regions in the country, from all the various political groups in the country as part of your team.
"You should not stop at that, you should ensure that your engagements are further deepened and like you have observed and said, everybody has the right to the post of Speakership based on your House rules. Everybody has what it takes the moment the various Representatives at their constituencies have been elected, it is first among equals.
"But, however, you have taken it upon yourselves to ensure that even with the support of the party, you are not resting, you are not taking anything to chance, you have continued to engage, you have continued to ensure that you extend hands of commeradeship to all of your members. Please continue in that line, ensure that your engagement is total, is transparent and is inclusive.
"Our wish is to ensure that on that day, in the Green Chambers, you emerge unopposed. But for that to happen, a lot of work also needs to be done. And I wish you that power of engagement, that willing engagement to be able to carry everyone along.
""Our leader, President-elect Asiwaju Bola Ahmed Tinubu, sends his best wishes, he knows, you know and all of you know that he is a real democrat. He is a man that does not only speak democracy, he lives by it. He understands what it takes. That it is only when you have agreed indeed that this is how we want to work, that is how he also wants to work.
"He has also indicated that for his government to be completely inclusive, your person as the Speakership, and your deputy look fit and proper and he is happy that you have brought up a winning team.
"Given that background, we are persuaded to ensure that we will give you all the required support by ensuring that other aspirants who are all known to us are all brought to the room and conversations are held. I want to say that you should continue your engagements. You should continue ensuring that you have a broad shoulder to carry everyone along."
The governor added that the party do not expect anything less in the 10th Assembly, given the level of success that has been recorded by the outgoing 9th Assembly,.
"We do not expect anything less in the 10th Assembly. The records and the level of performance are clear for everyone to see. The minimum that we expect is to meet and possibly surpass the records of performance of the 9th Assembly.
"Your pedigree and your resume speak to that and I have listened and read about the two of you. I know too well that you have what it takes to lead this great House that has about 360 Nigerians of diverse backgrounds, to lead them in that Chamber so that we can have a purposeful, meaningful Legislative Executive engagement that can bring about the dividends of democracy for and to our people," he added.
Earlier, Hom. Abbas said: "We decided to start the consultations from Lagos because, it is the capital of APC and you are passionate about the APC dream and the government of Asiwaju.
"We are here because the key movers are coming from this state .
"This project is supposed to be a unity project of everyone . That is why we have people from all the parties elected here and people from different denomination This is a unity project I want to sell to the Nigerian people.
"We know this time is a divisive time in Nigeria. Nigeria has never been more divided. We believe that the leadership of the National Assembly require people who are detribalised, who see Nigerians not regionalist , tribalist, or religious fanatic .
"This is the project Mr Governor that I want to assure you will further unite Nigeria.
We try to cure the ills that has been ravaging us these years. We will commit ourselves to duty and we want to assure you , we will not fail APC, we will not fail our President elect.
"Lastly , we are here for your prayers. We believe your prayers and support will go a long way in actualising our dream. We need your prayers that we will not only win June 13, but we will stabilise the House, heal the wounds particularly from various contestants that are in this particular race."