15TH BRICS SUMMIT: Tinubu very passionate about empowering MSMEs, says Shettima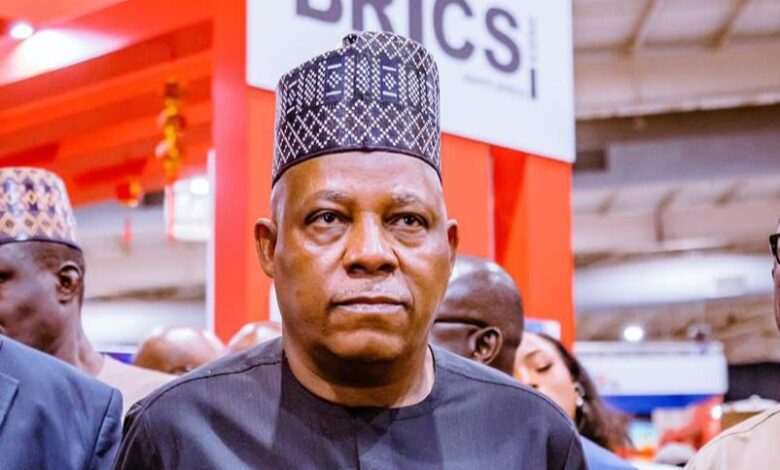 The Vice President, Kashim Shettima, says President Bola Tinubu is very passionate about empowering Micro, Small and Medium Enterprises (MSMEs) for the development of the nation's economy.
According to the Vice President, "It is a known fact that the empowerment of the MSMEs is key to empowering our youth and women towards contributing to the nation's economic development."
The Vice President stated this Wednesday when he spoke with journalists during his tour of exhibition stands at the BRICS Trade Fair in South Africa, Olusola Abiola, his spokesperson, said in a statement he issued.
Speaking further about the commitment of President Tinubu towards empowering the MSMEs, Shettima said, "The President is a very compassionate leader and in the coming months, there will be changes in the fortunes of Nigeria."
Explaining the economic impact of the growth of MSMEs on the economy, Shettima said, "This will have positive impacts which will enable them to support their families and add value to the nation."
The Vice President commended the organisers of the trade fair which had about 180 exhibitors from various sectors of the economy. He stressed that the exhibitions will in the long run serve the purpose of galvanising investment and trade in the continent.
Vice President Shettima who took time to inspect Nigeria's exhibitions lauded the investments of Nigerians in South Africa.
He said, "I am quite impressed by the investment Nigerians are making in South Africa. This is the harbinger of greater things to come. I can say that Nigerians are active in digital economy, they are active in fashion, they are equally active in mining,
"I am quite glad that quite a number of our country men are doing well and are willing to partner with the home nation for the greater glory of the African continent."
While praising RoseBank, a Nigerian investment outfit in South Africa for the funding of a cassava project worth N40 billion, the Vice President affirmed that "It is a game changer with the cassava value chain with its huge economic benefits. We hope that it will be reflected in other parts of the country."
The Trade Fair is being organised by the BRIC South Africa & The SA BRICS Business Council (SABBC) in collaboration with the Department of Trade Industry and Competition, on the sidelines of the on-going 15th BRICS Summit.
The exhibition is expected to serve as a platform for showcasing products and services from the BRICS countries as well as business-to-business interaction aimed at increasing intra-BRICS trade and investments.
The Vice President was accompanied to the Trade Fair by Nigeria's High Commissioner to South Africa, Amb. Muhammad Haruna Manta, the Consul-General, Amb. Andrew Idi and other senior government officials.