17 takeaways from Fashola's interview with Seun Okinbaloye on Channels Television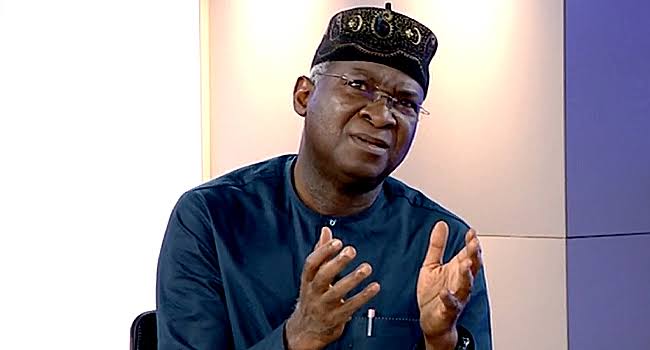 Minister of Works and Housing and former Governor of Lagos State, Babatunde Raji Fashola, SAN was the guest of Seun Okinbaloye on Channels TV Politics on Sunday on April 16th, 2023. The minister spoke on sundry issues including the victory of Asiwaju Bola Ahmed Tinubu as the incoming President of Nigeria and why his party All Progressives Congress won the presidential election.
Here are the 17 takeaways from the interview that last 45 minutes.
We had a preparation plan as opposed to widely said rigging plan. I challenge the opposition to show us what they did in terms of preparations ahead of 2023 general elections.
We trained 2000 polling agents, who inturn trained all the necessary 176,846 to man all the polling units in different states across the country and this is instructive. The facilitators showed these polling agents the difference between the 2010 Electoral Act and what is obtainable for the 2023 elections.
These were the people who sent us the results from the polling unit to the situation room, which I headed.
The INEC's BVAS testing and mock accreditation had a larger percentage of APC in attendance and the percentage of attendance reflected in the final results percentage.
Election is big business and a serious process. I know only one certified election manager in Nigeria, his name is Fuad Oki.
In the build up to the election, I was optimistic and did not underrate any opponent.
Agents are the foundation of every election and the APC knew the importance of this during preparations and that was why the 2-day training we had for the 2000 agents had all the top echelon of the party in attendance.
Politics is a game of numbers and numbers have arithmetic equations – additions and multiplications. APC was adding and multiplying.
PDP was dividing and subtracting. The major contenders against us in this election – NNPP, PDP, Labour Party, their candidates, were in the same party in 2019. They lost by almost four million votes. So, having now divided that inadequate, insufficient ticket into three, how was it going to add up into an electoral victory? So, they handed away the presidential ticket by dividing their powers. Not only did they divide, they now subtracted with the G5 governors. So, it was bad mathematics.
Asiwaju introduced me to polling of elections when he was running for a second term and I was his Chief of Staff in 2002. Not only do we poll for elections but we poll for policy decisions in governance and it was a tool I used a lot when I was governor.
As at January 2023, our polls showed that we were 10 points ahead. It also showed that we had reached 25% in 23 states out of the 25 we were targeting. It also showed where we had 10, 15% as well as battlegrounds where we had to target. In the end, we got 29 states.
We knew states that we are going to flip, we knew states that were not going to flip, we knew the states that we could win, we knew states that have historically not voted for us and you know the states that love us and we went there to Get Out The Votes.
We were blindsided in Lagos because the opposition had voters who turned out and you also find out that a party that had been competitive for 24 years suddenly disappeared. It showed that the support base had shifted. We got blindsided and it surprised us in Lagos State. They turned out their voters in the presidential and in the gubernatorial, we turned out our voters.
I am not going to comment on any matter that is in dispute and is at the election tribunal.
In terms of violence, one incidence in any election in Nigeria, does not cover us in glory. The number of polling units where these said violence occurred are insignificant compared to what you have seen in elections in the past and this is from datas recorded not my personal opinion.
I think it's extremely ridiculous to begin to choose offices for a nation that represents the largest black race in world on social media. It ridicules us and we should stop it. We have elected a president, let us wait for him to be sworn-in and let us respect the privilege and the perogative that he has to constitute his team.
Let me warn all the people who will be coming to work for BAT. He's very nocturnal, I hope he changes. He does his best work in the dead of the night; he's very very detailed, he micro-manages.