2023: I'll partner A'Ibom people for development, Umo Eno assures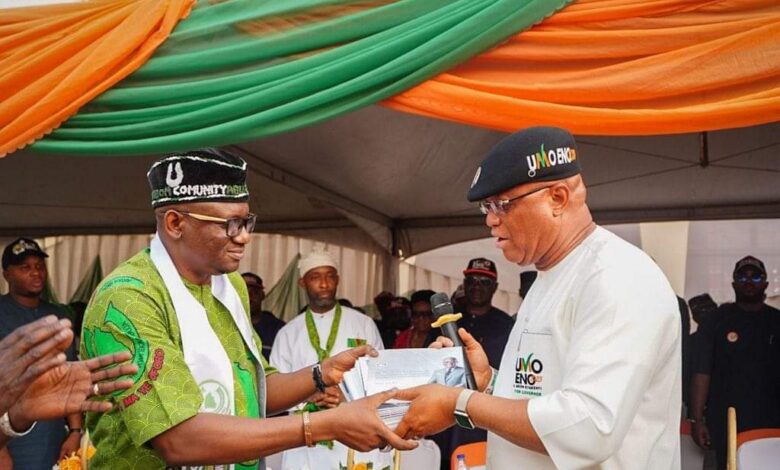 Governorship candidate of the Peoples Democratic Party (PDP) in Akwa Ibom State, Pastor Umo Eno has promised to partner all Akwa Ibom people irrespective of location to further the development of the state.
Speaking at an extraordinary meeting of the community held at the Akwa Ibom House, Abuja, Eno noted that he was prepared to harvest ideas from every section in the state and sector that would enable him achieve the goal of connecting the dots to further on the development strides of the Governor Udom Emmanuel-led administration.
Pastor Eno who was visibly elated by the rousing reception, assured everyone that he would cater for the welfare of every Akwa indigene irrespective of location; adding that verifiable businesses of Akwa Ibom people would be supported, wherever they maybe based.
He recalled that he resigned from a lucrative job in Lagos over 25 years ago to invest in Akwa Ibom, adding that the investment which started with five rooms has metamorphosed into a conglomerate and at a point, had about 2000 staff in its employ.
The governorship hopeful enumerated some of his achievements during his tenure as the Executive Director, Directorate of Agric Investments, Chairman of the FADAMA Micro Finance Bank, and as Commissioner for Lands and Water Resources which included successful farmers' enumeration, revamping of the moribund Akwa Palms, registration and flag off of the FADAMA Micro Finance Bank, the celebrated water bill, recovery of government lands as well as facilitating payment of compensations to different communities, and others.
While acknowledging that he might not be a regular politician, he stated that he is bringing four cardinal values to politics which include; character, capacity, competence, and compassion; and assured that if elected into office in the forthcoming election, he would run an all- inclusive government.
The governorship hopeful who has been endorsed by overwhelming majority of Akwa Ibom people, individually and in groups, unveiled his economic development blueprint tagged: "ARISE Agenda," which according to him stands for Agricultural revolution, Rural development, Infrastructural maintenance, Security management, and Educational advancement.
He maintained that the next administration would be big on rural development and entrepreneurship, adding that as an entreprenur, he understands the act of goal setting and pursuing the goal to a logical conclusion.
Pastor Eno who was accompanied by his running mate, Senator Akon Eyakenyi, State PDP Chairman, Elder Aniekan Akpan, Director General of campaigns, Ambassador Assam Assam SAN, and Deputy DG of Campaigns, and many others, commended the Akwa Ibom community in Abuja for giving him the opportunity to share ideas with them, and assured that he would not disappoint the community and indeed, the state at large.
In his remarks, the President of the community, Mr. Ifiok Ibah applauded Pastor Eno for honouring them with his visit and for coming to share his thoughts and vision for Akwa Ibom State.
He assured that the community had resolved to align with Pastor Eno and his economic development blueprint (ARISE Agenda) adding that the PDP Guber Candidate has shown capacity, character, competence and compassion, and deserves the support of all and sundry.
He stated that many members of the community have transfered their PVCs to their units back home and will play their part during the elections.