2023: Vote, Tinubu, APC, don't follow lies, Sanwo-Olu admonishes Lagosians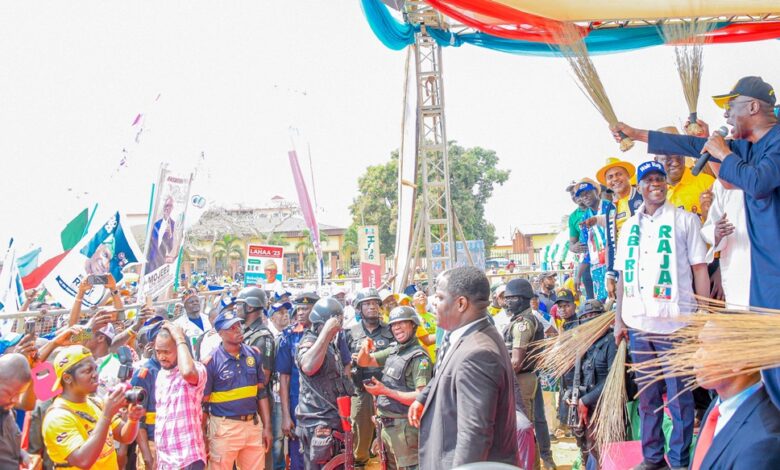 Governor Babajide Sanwo-Olu on Wednesday encouraged Lagos residents to vote wisely and not allow any deceitful thoughts sway them against voting for the All Progressives Congress (APC) in the upcoming election.
He stated this at the commissioning of Phase 1 Eleko Junction-Epe-T Junction.
Speaking at the event, Sanwo-Olu said Asiwaju Bola Ahmed Tinubu's Presidency will transform Nigeria.
He said: "On February 25, don't waste your vote. Vote for APC at all levels.
The road infrastructure we have constructed here today is one of the best in the country and if you vote APC at the Presidency, we will have such around the country.
"We are happy we are handing over this road today and the phase two of this road has started. We are a government that says a thing and does it.
"We told our people that we would transform this road which was built 40 years ago and we did it"
In her address, Special Adviser Works and Infrastructure, Aramide Adeyoye said in 2020, the situation of the road was very deplorable, with a journey of 35 minutes taking as much as 5 hours.
She said: "In January 2021, work started on the worst segment of the Eti-Osa/Lekki/Epe Expressway, from Epe to Eleko T-Junction, a distance of 18.75km.
"Today, the narratives of the harrowing experience of commutters and motorist on this stretch has changed. Not only have we fixed the stretch from Eleko to Epe T junction, we have also upgraded the road with outfalls and pavement in rigid concrete with an introduction of an additional lane on either side dedicated to trucks.
"This is in anticipation of the upsurge in average daily traffic (ADT) volumes as activities ramp up at the Lekki Deep Sea Port, refinery and other buisinesses around the Lekki Free Trade Zone corridor.
"With the completion of phase I of the reconstruction work, Mr. Governor has also graciously approved the commencement of the second phase of the works from Eleko junction to Abraham Adesanya Roundabout which have commenced."
Earlier at a political rally at Epe, Deputy Governor of the state, Obafemi Hamzat urged resident of Epe to vote massively for APC.
He said: "Lagos has more than seven millon registered voters and we must come out to vote in the next election in February and March. We must prove this is Tinubu's home country in the next election."