2023: We'll remodel tourism sites in Ikot Abasi – Umo Eno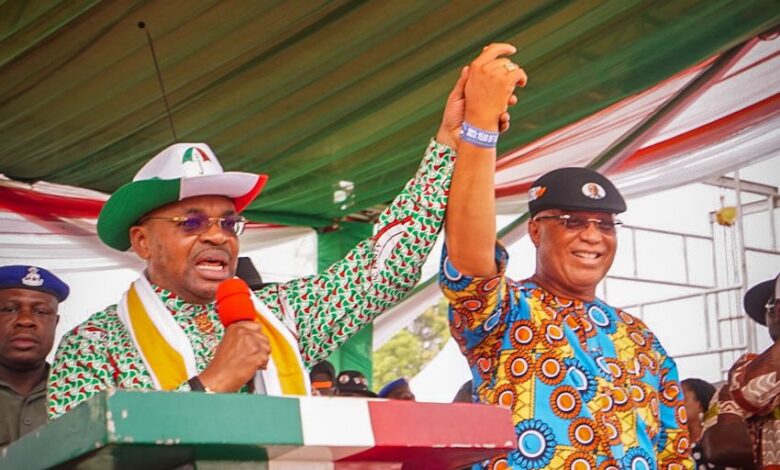 Governorship candidate of the Peoples Democratic Party (PDP) in Akwa Ibom State, Pastor Umo Eno has promised to remodel the tourism sites in Ikot Abasi to attract tourists if elected into office.
Addressing a mammoth crowd at the PDP/Pastor Umo Eno and Akon Eyakenyi campaign rally at Ikot Abasi Local Government headquarters, he noted that the rural development plan as contained in his ARISE agenda will find full expression in the area.
He maintained that Ikot Abasi is an area very dear to his heart, especially because his daughter is married to one of their sons, adding that if he could willingly give out his daughter to Ikot Abasi, nothing good would be withheld from the area.
The governorship hopeful stated that Ikot Abasi would benefit from agricultural revolution, rural development, infrastructural maintenance, security management, and educational advancement as captured in the ARISE agenda.
While thanking them for their unwavering support for the PDP in previous elections, especially in 2019, he urged them to vote massively for the party in the next election to further on the peace, security and development across the state.
In his remarks, Governor Udom Emmanuel appreciated the people of Ikot Abasi for the support given to him over the years, noting that the visit to the area was not for campaigns but for appreciation as they had already resolved to vote enmasse for PDP at all levels.
Governor Emmanuel who described the PDP governorship candidate as a man of peace, urged them to be firm in their resolve to vote for Pastor Umo Eno and other candidates of the party adding that it is only a man of peace that can further peace in the state.
Earlier in their separate remarks, the Chief Executive Officer, Hensek Integrated Services Ltd, Mr. Uwem Okoko and the local government chairman, Hon Joshua Afia commended the governor for his developmental strides in the area, enumerating some to include the general hospital, roads and others.
They disclosed that Ikot Abasi voted overwhelmingly for the PDP in 2019, and assured that they are determined to give even more votes to PDP in 2023.