Wike's challenge, By Sam Omatseye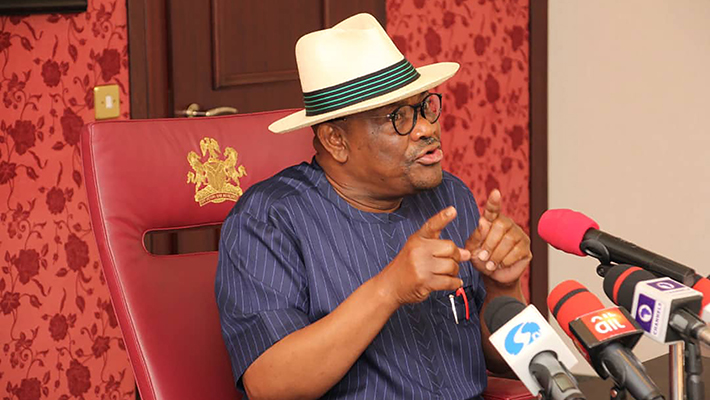 Nyesom Wike is a unique sort of orator. He does not command a bravura class of diction, or the magnificence of phrasing, the sweet bass, the rich sibilant or tenor. But his voice scratches its way to the people's heart.
He has become both speaker and singer, a stagecraft he tops with dancing. His walking stick is a character in the ensemble. To say he is a speaker discredits his dance. To say he dances undermines his throaty songs. To applaud his singing will draw a lash from his walking stick.
His is a whole package onstage. No one compares with him today. Not even close. His is the emblem of the folksy performer as politician. Which may not be fair since Wike does not even perform in the sense of the actor. He is just who he is. A natural. A thespian art without the thespian act.
When he appeared on stage last Saturday, his performance rang across to another stage in the Niger Delta. His stage was in Port Harcourt but he reverberated in Warri. An earthquake with a tremor on the other side.
It was a piece of revelation. He had said it a day earlier, but he especially said it on live television. He said his series of projects he had been inaugurating, including 12 flyovers and cancer centre, came from the munificence of President Muhammadu Buhari. Buhari had released great tranches of billions, he confessed, that the federal government had been owing Niger Delta States since 1999.
Back in Warri, former Edo State governor Adams Oshiomhole echoed Wike's words. He localised it to Delta State, and said Buhari returned N250 billion to Governor Okowa. After that, he unleashed N60 billion, before two other tranches of N10 billion each. We have not seen onstage theatre talk to theatre onstage. Real-life theatre has upstaged performance theatre. It is only in Nigeria. We have seen plays talk to plays, or works of art talk to works of art. For fiction, it is called intertextuality. We have seen plays talk to fiction, like Shakespeare's play, Antony and Cleopatra, talking to Roman writer Plutarch's work on the lovesick pair. Soyinka's Opera Wonyosi descended from Brecht's Three Penny Opera that hailed from the ancestor of the tale, John Gay's hilarious Beggar's Opera. The stories of these operas, originally based on Prime Minister Robert Walpole, ring true to the skeins of extravagance, political whoring and corruption of Nigeria today. Wike's revelation was no mean challenge in an age of financial haemorrhage of mythic proportion.
We would have expected that one governor, especially Okowa, would come out and say, no it didn't happen. Or he would use the familiar pidgin phrase of the day, if it didn't dey, it didn't dey. Obviously, Wike didn't lie.
He said he has evidence of what he is doing with the money he received from Buhari. The only state that received huge chunks was Akpabio's Akwa Ibom time before Buhari, and it was during the days of Goodluck Jonathan. Adams also announced that Edo collected N100 billion. The question is, what have the other states got to tell as their stories? We cannot say same of Edo State with the governor's perpetual decibels of abuse. We have seen nothing in Bayelsa. In spite of the role a federal government plays in hemming in flood disaster, the state was not even ready for all its money. As for Akwa Ibom, we have seen huge investments. Governor Udom Emmanuel has a first-rate Ibom Air, unarguably Nigeria's top airline that has just taken delivery of two airlines with about eight to join its sterling fleet. We have the Dakkada Towers, the smartest and tallest building in the region to draw in the oil majors. We know of the flour mills, Coconut factory, etc, and the plethora of road networks braiding the state. Even the consul general of the United States, Will Stevens, about a month ago lauded Gov. Emmanuel as the top state in the country in transparency.
Now, what have the others to show for the money? Where is Okowa's accountability? Apart from raking in over N300 billion from the Buhari government, it recently secured loans through a rubberstamp house of assembly of over N250 billion for what he said were projects. This is a man who cannot meet up with pensions. In Delta, we cannot boast of landmark work of infrastructure. We cannot boast of schools in top shape. Old students want to take over schools owing to official neglect, but he would not yield. He presides over a rot. Okowa is a parable of how not to be a governor.
Warri, the city that epitomises the state in history and resources because of the oil wells surrounding it, is a mockery of a modern city. It is dead. It is like William Blake's London ages ago when it was a slum. The bard said, after going about the city, he saw "in every face I meet/ marks of weakness, marks of woe." That is Okowa's Warri, the once proud city of jocund youths with a greed for the future.
He has now supported a successor for his party whose certificate is under question because it would seem he was already an elder when he was in secondary school and had an unusual miracle of two handwritings in his life time, one when he was writing university exam and the other when he left the exam hall.
From Wike's confession, there is one man to pity: Muhammadu Buhari. Today, many complain that he did not stimulate the economy. Yet, this man has released trillions to the governors who should have revived their economies by investing in people's lives. It is a tragedy that he will take credit for their incompetence and ineptitude. Shakespeare wrote: "We the greatest are mis-thought for things that others do; and when we fall, we answer others' merits."
Buhari's minders have done little to take the heat to the governors who have received so much and done so little. It is power failure on Buhari's part. Last year, he gave N565 billion in bailout funds to states. This year, he has given over N700 billion. This is not just Niger Delta. It is the whole country. We have more accounting to do. It is just a pity that Buhari cannot talk for himself, hiding under a taciturn brow.
Wike has challenged his colleagues. Okowa, Duoye Diri and Godwin Obaseki should answer.
First published in The Nation Newspaper