Abe congratulates Tinubu on tribunal victory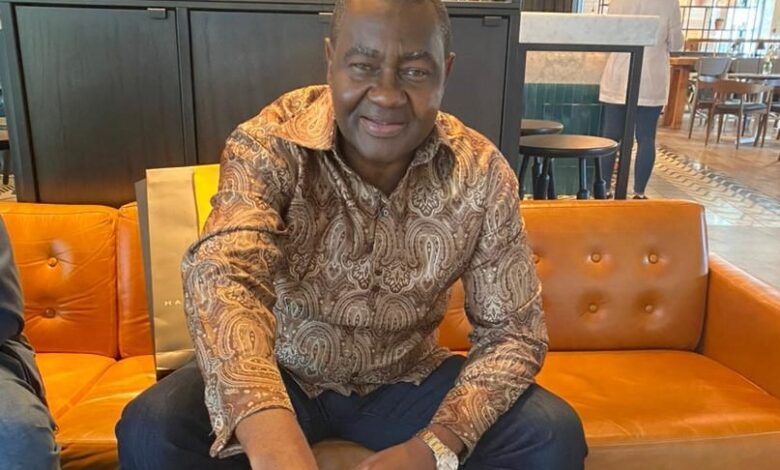 Governorship Candidate of the Social Democratic Party (SDP) in Rivers State Magnus Abe has congratulated President Bola Tinubu over his victory at the Presidential Election Petition Court( PEPC) describing it as a step towards actualising the President's Renewed Hope Agenda.
He also hailed the Presidential Candidate of the Peoples Democratic Party (PDP) Atiku Abubakar and Labour Party (LP) Peter Obi, saying they deserve respect for their patriotism in contesting the elections and pursuing their grievances within the constitutional provisions.
According him, without patriots like them Nigeria's democracy will be a mere joke and called on Nigerians 'saying their efforts must be acknowledged by us all'.
Abe stated this in a statement on his Facebook account on Thursday captioned :
"CONGRATULATIONS TO PRESIDENT TINUBU, ALL NIGERIANS AND THE NIGERIAN JUDICIARY".
He said he has always maintained that there is nothing in all those personal attacks except for politics and that has now been put to rest.
The statement reads in part, "Immediately after the 2023 Presidential election and the winner declared by INEC, the opposition slogan has been 'All eyes on the Judiciary',"
"Yesterday ( Wednesday 7/9/2023), the Nigerian judiciary effectively discharged its commitment to the Nigerian Constitution and the Nigerian people by upholding the law.
"Expectedly the Presidential Election Tribunal upheld the election of President Ahmed Bola Tinubu as the democratically elected leader of our country. I say hearty congratulations to the President."
Reacting to some of the issues thrown up by the judgement he said:
"On the issue of electronic transmission of results, yes, INEC did promise that all results would be electronically transmitted. Yes, all results were not electronically transmitted but every political party accepted results collated in their favour that were not electronically transmitted. It is thus ironic that the same parties will like the results of their opponents not electronically transmitted to be declared fraudulent.
"Our current legal electoral Act does not require electronic transmission for validity of any result if INEC for whatever reason(s) did not respect that commitment, can a Court of law on that basis invalidate votes lawfully cast and declared as valid, according to our law?
"The Presidential Election Petition Tribunal rightly held that a valid vote cannot be voided by administrative procedure, it can only be voided by law.
"The law did not require electronic transmission as a precondition for validity and so the failure by INEC to do so cannot invalidate a vote. That is the right legal position."
He went further to say that moreover, there was no evidence that the failure to transmit results electronically favoured any political party more than the other, or that the act of non electronic transmission added or subtracted from the votes cast for any party.
''But our Electoral Act may need to be amended to clarify that point however, as of today, it is clear and the tribunal could not have said otherwise."
Abe argued that in the future, INEC should try to stick to its own guidelines, or 'we should codify the rules into the Act'.
On his own position on the issue of Abuja, the Senator maintained that the tribunal did not hold or declare Abuja as a state, because the status of Abuja was not the subject of the litigation, rather the issue was 'status of the votes cast in the Federal Capital Territory (FCT), and wondered if Abuja residents have a veto power over our presidential elections?'
"What the tribunal said was that Abuja voters do not enjoy any special status constitutionally denied to voters in other states, and so Abuja voters despite the special status of Abuja as the Federal Capital Territory cannot be said to have a veto over elections in our country that are denied to voters in other states.
"A candidate in counting his required twenty five percent in two thirds of the states will count Abuja like a state, that does not make Abuja a state."
On the issue of the President's educational qualifications, Abe said that all the personal allegations that were used to question Asiwaju's qualifications and legitimacy in this context were rightfully dismissed, 'not only were they not proved by evidence, they were clearly irrelevant to the issue of who won the 2023 presidential elections in Nigeria'.
In his submission he added: "We have always maintained that there is nothing in those personal attacks except for politics which has now been put to rest.
"I congratulate the duly elected President of Nigeria, President Bola Ahmed Tinubu, as validated by the tribunal.
"Let me also congratulate the petitioners: Alhaji Atiku Abubakar and Peter Gregory Obi. As long as they pursue their grievances within our constitutional provisions, they deserve our respect, and their patriotism in contesting the elections must be acknowledged by us all, because without patriots like them our democracy will be a joke.
"It may be time for them to extend a hand of fellowship to the winner and join hands with President Tinubu to address the challenges of insecurity and economic hardship that is now on the mind of Nigerians.
"At some stage in our politics, whatever our personal feelings are, our country must come first. The progress and prosperity of our people must now come first.
"Alhaji Atiku Abubabakar and HE Peter Obi have a right to decide their next steps. Whatever choice they make regarding their constitutional right to appeal, we should all respect it, but in the interest of the nation it may be time to move on.
"Once again, congratulations to all Nigerians!!! Our democracy is work in progress and tomorrow will surely be better. It is now time to focus on our security and our economy," he maintained.