Abiodun describes Alake of Egbaland as 'an exemplary leader' on 80th birthday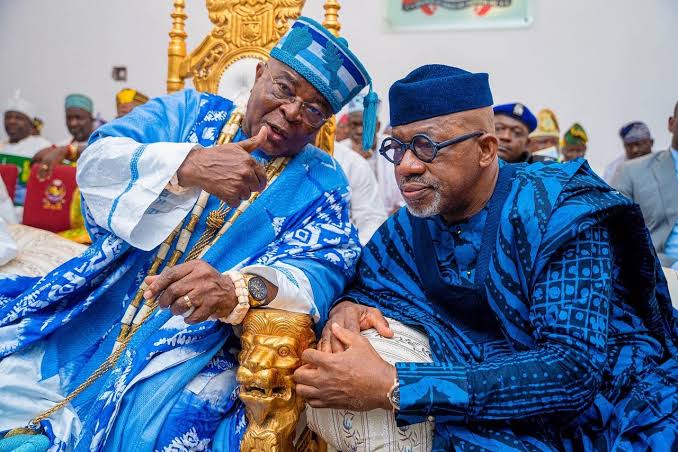 Ogun State Governor, Prince Dapo Abiodun has described the Alake of Egbaland, His Royal Majesty, Oba (Dr) Adedotun Aremu Gbadebo 111 as an exemplary monarch, whose reign has led to the socio-economic development of his domain in particular and the state in general.
Prince Abiodun, in a broadcast to mark the 80th birthday of the royal father on Thursday, said Oba Gbadebo has contributed immensely to the successes recorded by his administration since its inception in 2019.
The governor said the contribution of the Egba monarch to the peace and tranquillity, being experienced in Ogun State cannot be overemphasized, even as he described him as a rare gift to his people.
Prince Abiodun said: "On behalf of my family, the good people of Ogun State, I, Prince Dapo Abiodun felicitate the Alake and Paramount ruler of Egbaland, His Royal Majesty, Oba (Dr) Adedotun Aremu Gbadebo 111 on the occasion of his 80th birthday.
"Baba, I am happy to testify that Egbaland has witnessed a lot of socio-economic transformation since 2005 when you ascended the throne of your forefathers.
"Kabiyesi, you are disciplined, dependable, consistent, cerebral, urbane and quintessential. Egbaland and indeed our state has benefitted from these great attributes of yours. I want to thank you for the rock-solid support you have given me from the inception of this administration. You have been a champion of Our Build Our Future Together agenda and we remain very grateful.
"Your unique way of resolving conflicts in collaboration with other royal fathers has brought peace, unity and stability to our state. This must be the leftover of the military training in you. You are indeed a rare gift to our people. "I join millions of Egba and Ogun State sons and daughters to congratulate you and wish you many more healthy, prosperous and fruitful years ahead.
"Happy birthday, Kabiyesi as you join the club of the octogenarians."
Ki ade pe lori, ki bat ape lese. Irukere a po laafin.