Abiodun increases quarterly pension payment to N1bn in Ogun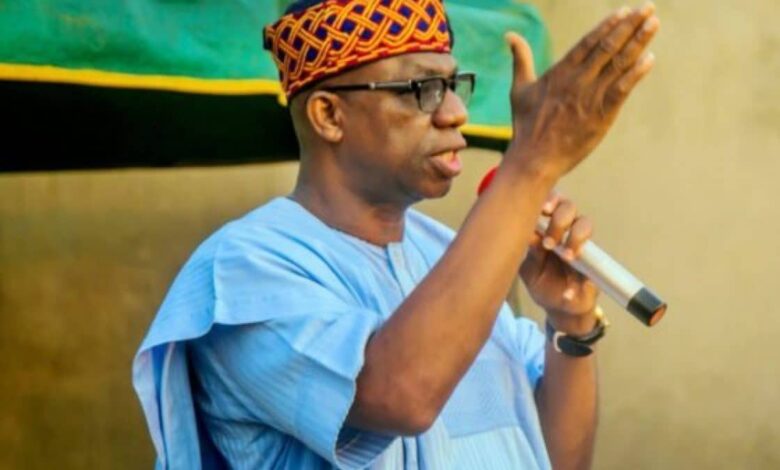 By Kolawole Olayinka, Abeokuta
Governor Dapo Abiodun has announced an increase in the quarterly pension payment in the state to N1billion.
Abiodun made this known while addressing pensioners at an interactive session held at the June 12 Cultural Centre, Kuto, Abeokuta, on Monday.
The governor told the pensioners that his administration met arrears of over N80billion and had since developed ways of defraying it.
"When we came in, we met pension arrears of over N80billion. We started paying N500million at a time. We later increased it to N600million monthly. If the previous government had been paying, we would not be where we are today.
"I am expecting about N280billion from the Federal Government being the money we spent constructing federal roads. I can assure you that as soon as I get that money, I will pay between N10billion and N18billion as pensions and gratuities," he said.
Abiodun disclosed that no gratuity was paid from 2012 up to when he assumed office in 2019.
He, however, announced increment of N15,000 for pensioners who were previously collecting N5,000 monthly pension, even as he wondered how people would survive with such paltry amount of money with the current inflation in the country.
He added that his administration had devised various ways, including providing needed infrastructure, security and enabling environment for more investments aimed at increasing the Internally Generated Revenue (IGR) of the state.
While noting that his administration was not unmindful of the plight of the senior citizens, the governor said a special arrangement had been made by the state government to take care of pensioners who need urgent medical treatment.
He, therefore, pleaded for patience and understanding as the government would be making efforts to attend to their issues, pledging to have such interactive session twice a year.
Speaking earlier, Chairman, Nigeria Union of Pensioners in the state, Alhaji Waheed Oloyede, had urged the state government to increase the monthly pension of those still collecting N5,000, just as he said that the N600million quarterly payment for pension was inadequate to pay gratuities.
While calling for the review of pensions in the state in line with what is obtainable at the federal level, Oloyede called for a regular interface between the pensioners and the state government to enable them solve any impending issues.
Also speaking, the Chairman, Local Government Pensioners Association, Pastor Ademoye, appreciated the governor for giving due attention to issues relating to pensioners, assuring the governor of their support at all times.