Abiodun mourns as first Nigerian Professor of Medicine, Ogunlesi dies at 99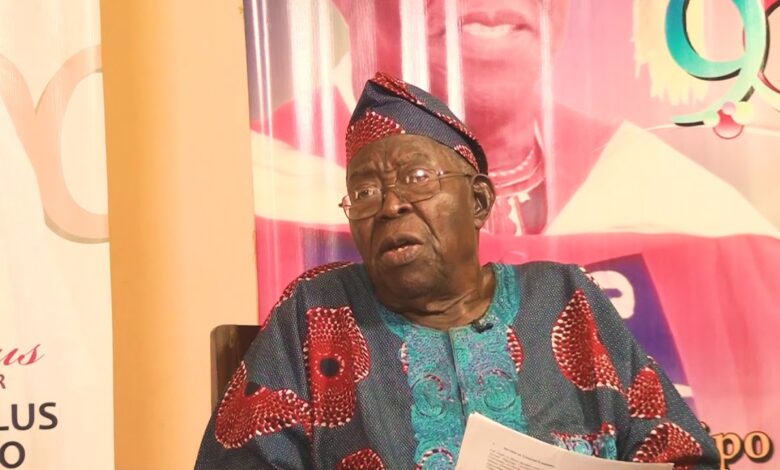 Ogun State governor, Dapo Abiodun, has mourned the passing of the first Nigerian Professor of Medicine, Emeritus Professor Theophilus Ogunlesi.
Professor Ogunlesi died late Thursday at the age of 99.
Governor Abiodun in a statement by his Chief Press Secretary, Kunle Somorin, described the death of the state born medical expert as painful.
While saying the late Emeritus Professor would be sorely missed in the state, Nigeria and the world at large, the governor said Ogun has indeed lost one of the finest medical experts the world would ever know.
Abiodun added that the contributions of Professor Ogunlesi in the field of Medicine would forever remain indelible and continue to benefit humankind.
"Professor Ogunlesi set Ogun State on the global map, which other states envy. He also set principles that impact society positively.
"As a state, we take solace in the fact that our great professor lived a life dedicated to medicine aimed at making breakthroughs that would enhance human health and wellbeing. He was the first Professor in the field of Medicine, a feat which further reinforced the spirit of excellence the people of Ogun are reputed for.
"As Papa journeys home, we would not mourn, but celebrate the life he lived and the positive impact he made in saving lives. We will sorely miss him especially his words of counsel and wisdom.
"On behalf of the good people of Ogun State, I express my condolences to the Ogunlesi Dynasty. I pray that God grants the departed soul of Professor Ogunlesi eternal rest.
"He will continue to be remembered as an illustrious son of Ogun, highly respected citizen of Nigeria and a world renowned specialist in the field of Medicine. Adieu Papa Medicine." Abiodun said.