Accord Party dumps LP, endorses Sanwo-Olu, others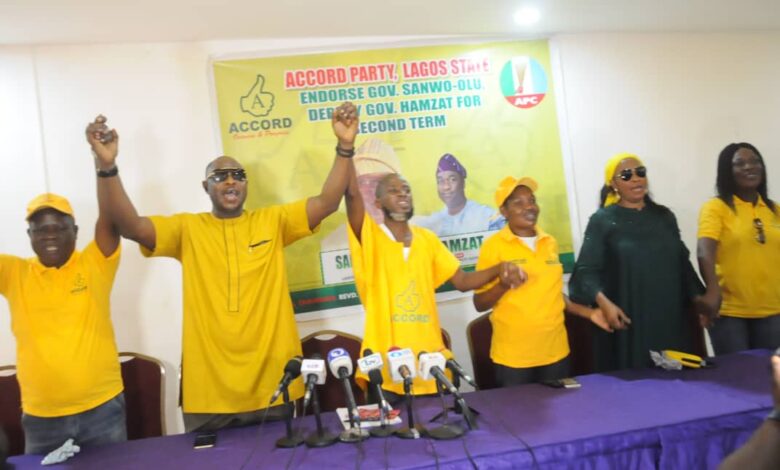 Lagos State chapter of Accord Party (AP) on Tuesday declared that it has opted out of an alliance with the Labour Party (LP).
The party disclosed this at a press conference to announce it's endorsement of Governor Babajide Sanwo-Olu's re-election bid and all the candidates of the All Progressives Congress (APC) in the March 18, polls.
Speaking at the press conference, AP Chairman in Lagos State, Dele Olajide said the party opted out from the alliance with Labour Party due to the way his members were treated by LP members and supporters after the February 25, presidential poll which Peter Obi, their presidential candidate won in Lagos State.
He said Obi's victory in Lagos State, was a collective effort of all tribes in the state and not a solo effort of a tribe as claimed in some quarters.
Olajide said his party formed alliance with LP because they believed in Obi's capacity, capability and integrity and all his party members worked assiduously for his victory but LP members and supporters discredit their contribution on how he emerged victorious.
He said no monetary reward or condition was given by LP before AP members in the state decided to work for Obi against the wishes of their fellow tribesmen who described them as saboteurs.
He adding that despite all the name callings from their tribesmen, they worked day and night for LP's victory but after the poll, Obi's kinsmen discredit their effort and started bragging that the victory was their solo effort and promising to repeat the same at the forthcoming governorship poll.
On the governorship poll, AP said they wrote a letter to LP to renew the alliance but their letter was ignored and the same letter was written to APC, it responded swiftly.
The declaration and adoption of Governor Sanwo-Olu and all APC candidates were made in the presence of large members of Accord Party.
Oladeji stated that the performance of Governor Sanwo-Olu's administration informed their decision to support his re-election.
He said Accord Party is endorsing Governor Sanwo-Olu because of his giant strides in Lagos State, adding that the party's decision was based on its resolve not to sacrifice various achievements of the Sanwo-Olu-led administration on the altar of bitter politicking.
Oladeji said they would not allow over- zealous persons to cast a shadow on Lagos by putting a blemish on it and therefore implored all Lagos residents to vote for credible candidates like Governor Sanwo-Olu during Saturday's governorship poll.
The party chairman who pledged his undiluted support for Governor Sanwo-Olu urged Accord Party members and all Lagos residents to come out en-masse on Saturday to re-elect the governor and vote for all APC candidates in the forthcoming elections.
Corroborating the support of his party for Governor Sanwo-Olu's re-election, Accord Party gubernatorial candidate in Lagos State, Pastor Peter Oboyuwana, announced that he has stepped down his ambition for the governor due to his efforts at combating COVID-19 menace and other laudable infrastructural development across the 20 local government areas and 37 Local Council Development Areas (LCDA) of the state.