Adeleke, deputy head ministries of works, sports as governor inaugurates executive council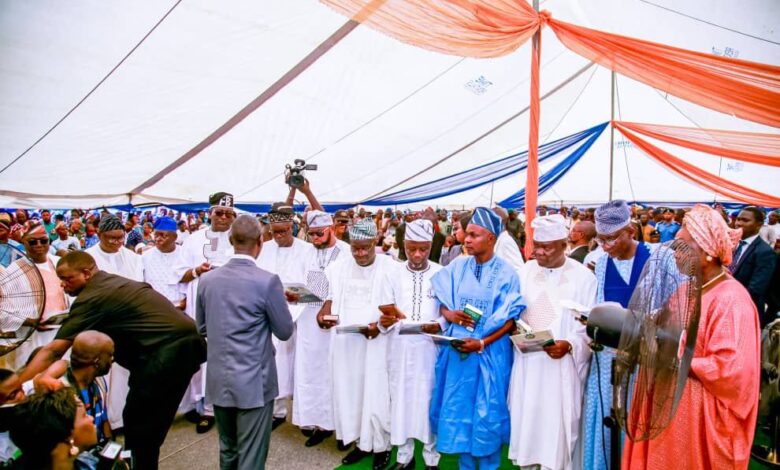 By Deborah Oladejo, Osogbo
Osun State Governor, Ademola Adeleke on Wednesday sworn-in in 25 commissioners and three permanent secretaries, charging them to work as a team with a common goal to make a difference in the lives of the people.
While reeling out the names and portfolios of his new cabinet members at the swearing-in ceremony at the Government Secretariat in Osogbo, Adeleke said he would be doubling as the Commissioner for Works while his deputy, Kola Adewusi, would oversee the Ministry of Sports and Special Needs.
The newly sworn-in commissioners and their portfolios are Kolapo Alimi (Information and Public Enlightenment); Dosu Babatunde (Local Government and Chieftaincy Affairs); Moshood Olagunju (Youth Affairs); Soji Ajeigbe (Government Affairs and Protocol); Jimi Bada (Justice & Attorney General); Mrs Ayo Awolowo (Women affairs); Eluwole Sunday Adedipo (Education); Olusesan Oyedele (Transport); Dr BT Salam (Internal Integration and Special Duties); Olufemi Oroniyi (Water Resources); Prof Moruf Ademola Adeleke (Budget and Economic Planning).
Others are Maruff Dele Ayofe (Science Information Communications and Technology); Mrs Adenike Folasade Adeleke (Federal Affairs); Rev. Bunmi Jenyo (Commerce and Industries); Mr. Shola Ogungbile (Finance); Tola Faseru (Agriculture); Jola Akintola (Health); Mayowa Adejonrin (Environment and Sanitation); Festus Adeyemo (Energy); Aderibigbe Rasheed (Home Affairs); Ojo Fafa Abiodun (Culture and Tourism); Alhaji Ganiyu Olaoluwa Asejere (Rural Development and Community Affairs); George Alabi (Land and Physical Planning); Bayo Ogunbangbe (Cooperatives and Empowerment); Biyi Odunlade (Political Affairs and Intergovernmental Relation).
Addressing the new commissioners, Adeleke said if he could have run a Governor-in-Council government for the past eight months with lots of achievements, then his new team should do better and be innovative in their approaches.
He said the new commissioners are products of stakeholders' choices, adding that they are qualified and appointed based on merit.
He said: "I seek a very responsive government that listens and satisfies the wishes of the people. So your goal must be real service to the people. I value honesty and integrity in public service. You must be above board. Corrupt conduct will be heavily sanctioned.
"I love thinking out of the box in governance. As political heads of your ministries, be very innovative. Generate and implement new ideas. In times of national economic emergency, I love achieving much with little resources. Be prudent and adopt measures that reduce the cost of projects and services.
"As we all know, I am a team player. There won't be any room for solo actors in our cabinet. You must work as a team with a common goal to make a difference in the lives of our people. Above all, my leadership is about due process and the rule of law. You must not cut corners. I will not compromise transparency and accountability.
"As you are coming on board, the task before us is enormous. We have a duty to turn our adversity into assets. We must re-engineer our economy, generate wealth, engage our youth, deepen our economic base, embrace the digital economy and implement our climate action agenda.
"We are the innovators to overcome our state's deficit across sectors. I know you are full of new options for the greater Osun agenda. I believe your heads and hands are full of solutions to the governance problems of our time. Bring them on. You will find in me a receptive and supportive head of administration.
"To harness our potential and capacities, an executive retreat is in the making for all top appointees and officials. At that event, an expanded five-point agenda of the administration will be a focus. We will leave the retreat better equipped to deliver on our mission and vision as a government.
"Also in due course, you will be adequately briefed on public service rules as well as your working relationship with bureaucrats who are accounting officers of the Ministries, Departments and Agencies. I will insist on harmonious partnership with the civil service by political appointees. We are partners in progress."
The new commissioners promised to key into the five points agenda of the Adeleke-led administration, assuring that they would be loyal and avoid shady deals.