Adeleke harps on free, fair elections across Africa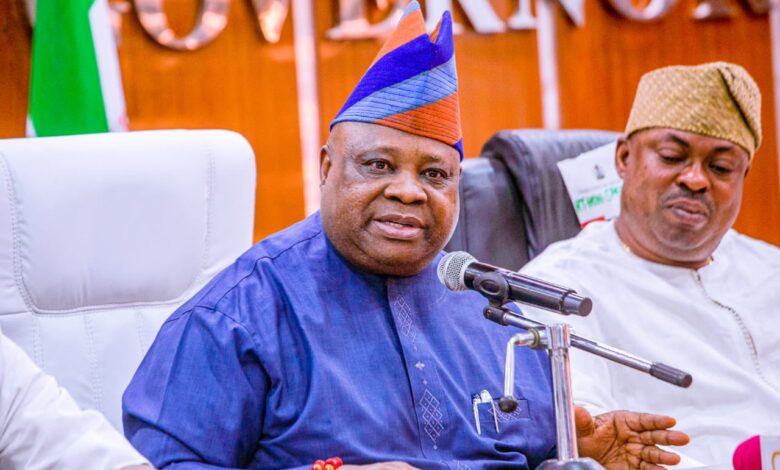 Osun State Governor, Senator Ademola Adeleke, says democracy can only survive in Africa when leaders allow free and fair elections and elected leaders serve the interest of the citizenry.
He made the assertion at a three day executive retreat organised by the African office of the United Nations Development Programme ongoing at Kigali, the capital of Rwanda.
Speaking as part of 16 state governors who attended the retreat, Governor Adeleke attributed challenges facing democracy in Africa to the refusal of elected officials to deploy state power in service of the people and a follow up trend of resisting free and fair electoral process.
While advancing the importance of due process and rule of law for democratic survival , the Osun state chief executive noted that leadership positions should be seen as a tool for service to the people , urging leaders to have fear of God as foundation for leadership success.
" I am glad to be here. Permit me to call on leaders in and out of here that we must allow democracy to work. We are products of the democratic process . So we should allow free and fair elections.
" Our people put us here . So we must serve their interest. If we fail to serve their interest , we must accept when we are voted out. Once we are elected , we must be on our toes and make a difference.That is how democracy can thrive.
" Democracy in whatever form must bring development. If democracy does not produce development , there will be problems with the system. I love what I see in Rwanda. There are serious lessons to learn.
" I try to practice what I preach. In Osun state, I govern with an eye on rule of law and due process. I know developed nations got to where they are today because they allowed democracy to function, they embraced rule of law.
" Let me also add that the citizens too must play their parts. The citizenry must be active and defend the electoral process. The people must rise to ensure free and fair elections.
"We will learn a lot here. We will exchange notes. We will be better leaders", he told the gathering
A continental leader, Donald Kaberuka, in his submission emphasized the essence of contemporary leadership in a rapidly changing world.
According to him, legal compliance, legitimacy, and empathy are pivotal attributes, calling for fair governance as a central theme and stressing the importance of inclusive leadership.
Governors from Nigeria who attended the retreat include those of Oyo, Abia, Anambra, Benue, Cross River (represented by the Deputy Governor) ,Delta, Ekiti, Enugu, Jigawa, Kaduna, Lagos, Niger, Nassarawa, Taraba, Sokoto (represented by the Deputy Governor) and Zamfara
Special Guests include Mohammed Yahya, Nigeria Country Head for UNDP, who provided insights on technical capacities such as AI and Climate Change.