Adeleke promises digitally driven economy in Osun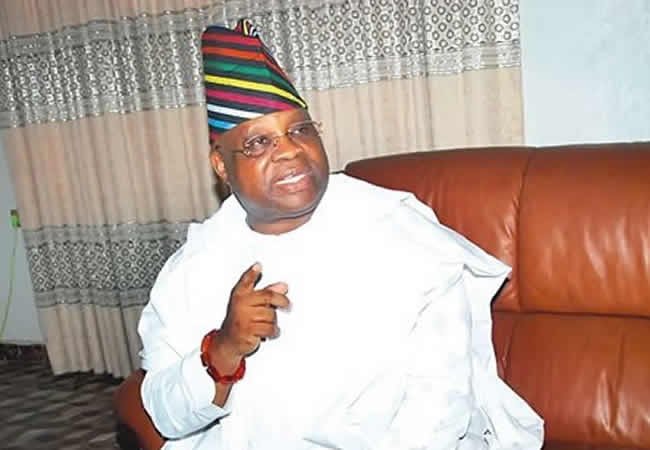 By Deborah Oladejo, Osogbo
Osun State Governor, Ademola Adeleke has said that his government is determined to put the state on global digital map to grow the economy of the state.
Speaking at the unveiling of the state's digital economy policies and flag off of a broadband fiber optic project, Adeleke said that the state would soon be digitally driven, noting that technology has now taken the frontal role in the world.
The governor said his administration would through ICT, open up the field of global opportunities to the youth.
His said: "We are talking of a new age agenda; we are aligning with the global digital movement. This is the new reality of our existence. Technology rules our lives. After the Covid pandemic, technology assumes even more frontal roles. I am determined to place Osun State in the frontline position. Osun must be on a global digital map.
"Permit me to inform you all that Osun indigenes are top leaders of the Nigerian and African tech sector. They are prominent tech entrepreneurs with billions of dollar capital base globally. We must tap into their expertise to grow our state.
"Also, as a highly literate state, Osun is blessed with an intelligent youth population. My administration seeks to open up the field of global opportunities to our youth. Under the Imole Digital Agenda, our target is to resolve citizens' challenges through tech applications. We will grow our economy, provide gainful employment for our youth, and transform Osun state into a tech hub for the South West region. Osun is ready to be a digitally driven state.
"It is with these lofty ideals in mind that I am here to unveil several initiatives within the tech sector. Permit me to note that this is the first time Osun State will be having an ICT Policy. The policy is designed to identify and apply information communication technology in various sectors of the state. Hence, the new policy has ICT in agriculture, education, health, environment, administration, infrastructure among others. This policy will change our state for the better.
"I am also unveiling the Osun State Tech Innovation policy. Many talented tech innovators abound in our state. The policy seeks to create an enabling environment for tech innovations. Hence, we will support establishment of tech hubs and ensure innovators secure much needed backing.
"As part of our digital economy drive, Osun is poised to be the first State to domesticate the Nigerian StartUps Act. This will be my first Executive Bill I will be forwarding to the State Assembly after this event. The Act is programmed to ensure that new startups promoters and entrepreneurs secure desired mentoring and financing. The law once domesticated will enhance the goals of both the ICT and the Tech Innovation policy.
"As e-commerce is at the heart of digital economy, my administration also launched the Osun Goggle Mapping project. This is to ensure that Osun businesses and landmarks are placed on Google maps to start with. When I took over in November, 2022, Osun Goggle Mapping coverage was below 30 percent. I am happy to record that Osun Mapping coverage is today above 50 percent. When we are to launch Phase 2, I will host e-commerce giants in Nigeria alongside Goggle Corporation."
The governor also flagged off Broadband Fiber Optic project as well as sign a Memorandum of Understanding with Oodua Infraco to commence immediate deployment of Fiber Optics across the state, the first phase is to cover 64 kilometers without the state putting in any fund.
Adeleke said, the internet Fiber connectivity when completed, the government would be waiving payment for Telecom Right of Way in return for free connectivity to schools and health centres.