Adeleke promises due process in handling Osun chieftaincy matters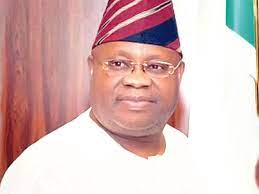 By Deborah Oladejo, Osogbo
Governor Ademola Adeleke of Osun State has reinstated his commitment to uphold the rule of law and enforce due process particularly in the area of chieftaincy affairs in the state.
He made the declaration while receiving the report of the Committee on Chieftaincy Affairs from the members of the committee headed by its Chairman, Rev. Bunmi Jenyo.
The Committee was inaugurated by Governor Adeleke on November 29th, 2022 with a mandate to look at the kingship appointments made after the July 16 governorship election in the state.
Rev. Jenyo while handling over the committee's report to Governor Adeleke, disclosed that over 1,000 petitions were received from aggrieved individuals on chieftaincy matters in the state.
Jenyo stated that committee members discharged their duties with equity, fairness and justice without compromising on the mandates given to them.
He said the committee came up with far reaching recommendations to assist the state government to make future decision in the area of chieftaincy affairs.
"You can be rest assured that a committee under my leadership have done justice to the chieftaincy tussle within Osun State especially with the terms of reference Chieftaincy and installation of kings between July 17 till November 26th.
"We investigated, we attended to petitions and looked at it critically because we believe in equity and we are being fair to all that was involved.
"We have over 1000 petitions on chieftaincy matters in Osun; we had over 200 interviews with individuals including the kingmakers of all affected communities, especially in Igbajo in Boluwaduro Local Government Area, Iree in Boripe and Ikirun in Ifelodun Local Government Areas. These are three volatile towns that were badly affected during the crisis. "We looked at critical issues and we advised the government on what to do and how to do it in a legal way. We are not being sentimental nor attended to issues with prejudice. We are just and God fearing," Jenyo stated.
Adeleke while responding commended the committee for delivering diligently on its mandate and promise to study the report and implement the recommendations contained therein.
He insisted that the Committee's report when implemented would contribute to the peaceful coexistence among the people of the state as regards traditional ruling affairs while announcing that his administration will ensure total respect for rule of law and respect for due process.