Adeleke says N1.2bn spent on last council election by Oyetola is crime against humanity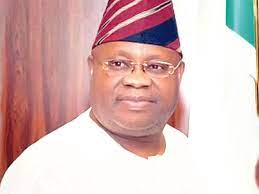 By Deborah Oladejo, Osogbo
Osun State Governor, Ademola Adeleke has described the expenses incurred in the last local government election in the state under the immediate past administration, as a crime committed against humanity and the people of the state.
The governor stated this while interrogating the Executive Secretary, Osun State Independent Electoral Commission, (OSIEC), Mr. Adedapo Adejumo, during the ongoing ministerial briefing at the government secretariat, Abere.
Adeleke, who was represented by his deputy, Prince Kola Adewusi asserted that the humongous amount spent on the recently conducted local government election was nothing but a misplacement of priority, especially at the time when backlog pension arrears were left unpaid to retirees.
"It is incumbent on a serious and God fearing leader to always have the interest of his subject at heart at all time as against one's selfish and self- centered interest.
"It was glaring that it was a kangaroo election conducted in contravention of the electoral laws guiding the conduct of local government election," Adeleke lamented.
Earlier, Adejumo had disclosed that N1.2billion was expended on the October 15, 2022 local government election.
While responding to the issue of constituting caretaker committee at local government levels, Adejumo described it as an aberration, pointing out that the act is unknown to the law.
Meanwhile, the governor has reiterated his commitment to reinstate local government autonomy in the state.
He dropped the hint during the ongoing ministerial briefing, organised to interface with all Ministries, Departments and Agencies (MDAs) of government, in order to cross fertilize ideas on how to move the state to greater heights.
Adeleke said: "Local government needs to be granted autonomy as this is the grassroot government through which the people get the dividends of democracy. Granting autonomy to local government is in total accord with the principles of federalism."