Adeleke sets up panel on viability of University of Ilesa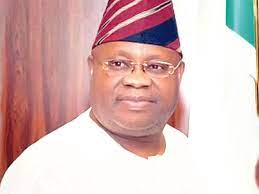 By Deborah Oladejo, Osogbo
Governor Ademola Adeleke of Osun State on Tuesdaya inaugurated an ad-hoc committee for the newly established University of Ilesa, with a mandate to provide a road map for a great institution.
Adeleke, while inaugurating the committee accused former governor Adegboyega Oyetola of politicising the university project.
He said the last administration avoided due diligence and comprehensive project report and opted for political action on a subject that demands thorough planning, covering financial and academic forecast and provision.
"Ijeshaland is a territory of interest to our government. Our administration is therefore committed to satisfying the needs and aspirations of the good people of Ilesa and environs.
"My first conviction is that Ilesa indeed deserves a university considering the achievements of Ijesha people at home and abroad.
"This administration is however committed to doing the right thing. The ultimate goal is to ensure that the interest of Ijeshaland is adequately protected and satisfied. My desire is to have in place a University of Ilesa that will be sustainable, a university that will be one of the best in the country," he said.
The ad-hoc committee, according to the governor will be headed by Prof. Ashaolu Taiwo of the Obafemi Awolowo University (OAU), Ile-Ife.
Other members include: Prof. Oyesoji Aremu, Prof. Lukman Jumoda, Prof. David Oladeji, Prof. Dayo Akintayo, Prof. (Mrs) Adefunke, Dr Mutalib Akanmu, Hon. Bamidele Salam, Permanent Secretary, Ministry of Finance and Economic Planning, Permanent Secretary, Ministry of Education and Permanent Secretary, Ministry of Justice.
The terms of reference of the committee include: review and assess funding requirements for both capital and recurrent expenditures for the eventual take off of the university; review and assess the sources of funds for both capital and recurrent expenditure for the eventual take off of the university; review the implementation guidelines proposed by the implementation committee.
The committee will also engage all relevant stakeholders including the host community, trade unions, alumni association of the college, the student body with a view to harmonize the position for the way forward; identify the gaps within the UNILESA Establishment Law and make appropriate recommendations towards its amendment to ensure adequate coverage of relevant interests for the eventual take off of the university, among others.
The committee has six weeks to conclude the assignment.