Adire designer, Ifebuche Madu unveils her mission to protect African textile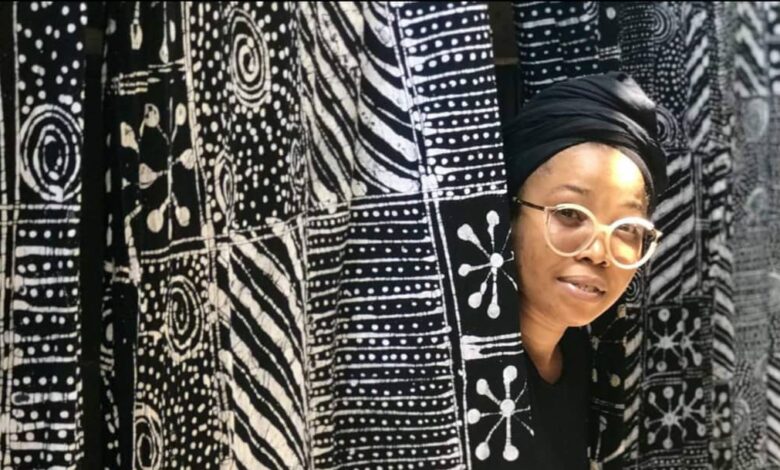 Fashion entrepreneur and renowned Adire designer, Ifebuche Madu has said women should be encouraged to raise their hands at any given opportunity.
Madu made this known in an interview with Guardian Newspaper where she talked about how she was poised in bringing her vision to light and her strong determination to protect the legacies of African textile.
A Fine Arts and Designs degree holder, Madu also has over seven years of experience as an Adiré textile designer and manufacturer. She is the founder and Creative Director at Afrikstabel, a textile manufacturing company with the goal to preserve, share and protect the African textile heritage.
In the recent interview, Madu talked about how she is using Adire to drive Nigeria's fashion industry.
She said: "At Afrikstabel, we have created over 2000 direct and indirect jobs throughout our value chain, from artisans to designers, tailors, merchandisers, illustrators, and retailers, locally and internationally. We have a partnership with over 150 artisans across Nigeria, contribute to the development of whole new economies and communities, and give them access to the market beyond their localities. We are building the needed bridge for the international fashion trade, creating sustainable alternatives for fashion production, and encouraging ethical practices in the African fashion industry."
Madu further stated she was raised believing that Ankara print originated in Africa.
"When I was studying textiles at the University of Port Harcourt, I discovered via research that the fabric I had come to accept as having an African print was actually not from Africa. This heartbreaking realisation prompted me to conduct additional research. Nigeria, alone, has hundreds of different indigenous textiles that have been abandoned. These textiles used to be a means of livelihood for millions of families in Nigeria. I made a decision to revive, promote, share and protect original African prints, starting with original Nigerian print," she added.
The fashion entrepreneur also spoke about the three key challenges she faced running her textile business.
"As an Igbo woman from the Eastern part of Nigeria striving to make a difference to revive indigenous Nigerian textiles, I was faced with language, cultural, and ethnic barriers. Understanding their local dialect proved to be a daunting challenge because we source the services of artisans in the rural Yoruba-speaking communities. Fortunately, I was given an opportunity to make an impact after earning their trust to preserve and promote these textiles. Today, I am paying it forward by continually ensuring that people from other tribes and countries can engage in the business of making Adire with fewer barriers," she said.
Madu also noted managing people are a big task, as she is proud that her textile business has extended across West Africa.
She said: "I have full-time staff from Senegal, Guinea, Togo, and different parts of Nigeria. We are faced with language and cultural differences sometimes. This requires that we get an interpreter to better pass down information. Finding qualified full-time craftspeople is a significant obstacle as well."
Madu noted that she has succeeded in training over 560 youths and have exported to eight countries,and she then laid emphasis on women
"We need to start encouraging women to raise their hands not only when it's convenient for them but at any given opportunity, encourage them to let go off the limiting beliefs they might have about themselves. This can be achieved by educating them through discussing success stories, reading books written by successful women and even organising entrepreneurial summit for women."