Afreximbank unveils EPC platform, commits $2bn to export agriculture for food security initiative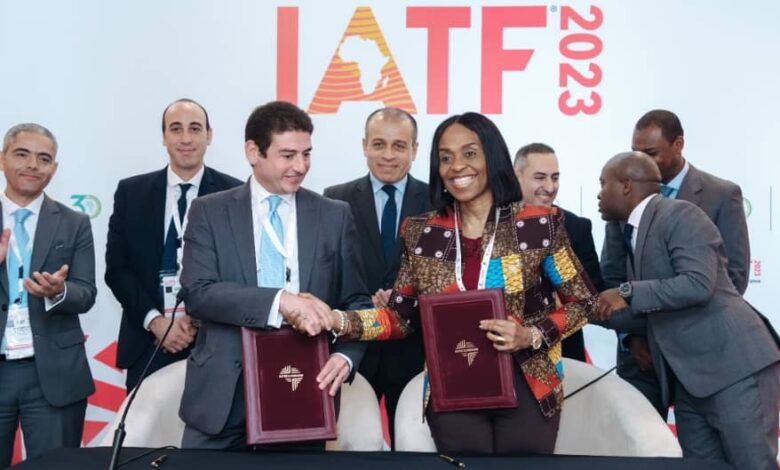 Bolaji Adebiyi in Cairo, Egypt
The African Export-Import Bank (Afreximbank) in Cairo, Egypt on Tuesday unveiled an intra-African Engineering, Procurement and Construction (EPC) platform designed to empower African contractors to successfully bid for contracts.
The platform, the bank said, would boost the capacity of African companies to bid for EPC contracts within the continent by allowing for the seamless posting of key infrastructure projects.
The continental bank introduced the platform during a workshop organised on the sidelines of the third Intra-African Trade Fair (IATF2023), to share the results of a survey conducted on challenges faced by African contractors, and also share the critical success factors in winning projects.
The platform also covered various products, programmes and initiatives developed by Afreximbank to support local companies engaged in infrastructure contract bidding.
"It is our belief that this specialized capacity building programme will enable African contractors to successfully bid for construction projects on the continent and beyond," Kanayo Awani, the bank's executive vice-president, Intra-African Trade Bank, said at the workshop, which also featured the presentation of success stories from companies that previously received support from Afreximbank, including Mota Engil, Elsewedy and Hassan Allam.
She said that the objective of the workshop was to promote African participation in large-scale African infrastructure projects and to promote the award of EPC contracts to African companies.
The workshop provided company representatives the opportunity to highlight the need for African countries to allow for the movement of labour across borders so that EPC contractors could bring in workers from other African counties where expertise existed, adding that including local content requirements in EPC contracts would help to encourage the use of local contractors and enhance capacity building.
The event witnessed the signing of facility agreements valued at US$200 million with Hassan Allam; US$30 million with Grainer Angola; US$50 million with DOTT Services; US$200 million with Arab Contractors; US$200 million with FDI; and US$300 million with Elsewedy.
Meanwhile, the bank has signed a framework agreement for the Export Agriculture for Food Security initiative with ARISE Integrated Industrial Platforms and the governments of Chad, Malawi, Zimbabwe and Egypt. The initiative seeks to improve food security in Africa.
Benedict Oramah, president and chairman of the Board of Directors of Afreximbank, signed the framework agreement on behalf of the bank.
Other signers were Robertine Walendom, minister of Industry and Trade of Chad; Sosten Gwengwe, minister of Industry and Trade of Malawi; Anxious Masuka, minister of Lands, Agriculture, Fisheries, Water and Rural Development of Zimbabwe; Rania A. Al-Mashat, Minister of International Cooperation of Egypt; and Gagan Gupta, founder and CEO of ARISE IIP.
Working with strategic partners and member countries, the bank is facilitating the implementation of the ExAFS initiative by committing US$2 billion to boost production, processing and intra-African trade in agricultural products and provide African farmers and agribusinesses with opportunities to access larger markets across the continent.

The initiative is intended to help address food insecurity in Africa, which includes a nearly 20 per cent hunger rate, by reducing dependence on other regions for much-needed food commodities.

ExAFS will also increase sales, lead to better prices, and improve profitability for Africa's agricultural value chain stakeholders.

It will leverage upon the establishment of agricultural transformation centres (ATCs) – under a public-private partnership model – in agricultural production zones to provide facilities for agricultural produce from farming communities to be collected, sorted, stored, and transported as raw material for processing or distribution. ATCs will also provide additional services to farmers, including microfinance, basic social services, cold storage facilities, extension services and training.

Afreximbank will act as a financier, facilitator and advisor and will lead the implementation of partnership activities while governments of pilot origin countries of the agricultural produce (Zimbabwe, Malawi and Chad) will play the role of policy enablers and ensure conducive environments for the ATCs. ATC anchor investors, such as zone developers, large-scale commercial farmers, seed companies and development finance institutions, will invest in the ATCs and their necessary infrastructure and will be the primary purchasers and aggregators in origin markets while anchor buyers, such as the Government of Egypt, will be the primary export markets for agricultural produce.

IATF2023, Africa's largest trade and investment fair, opened on 9 November and will close on 15 November 2023.