After backlash, Tems gives reasons for her enormous headpiece dress to Oscars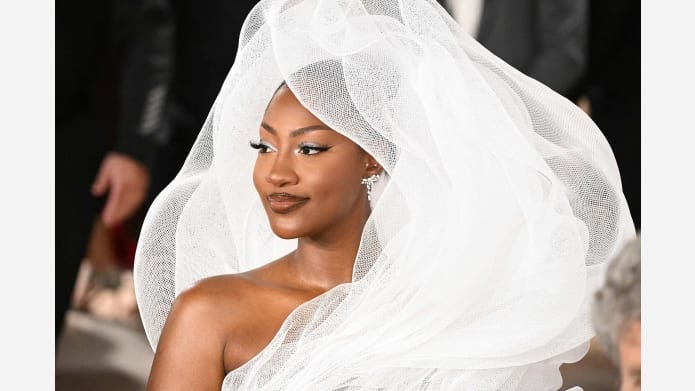 Following global outrage and backlash that attended her obstructive dress to the Oscars award night, Nigerian songstress Tems has explained why she wore the white dress with an enormous headpiece.
The Grammy award winner said she wore the dress that blocked the view of other attendees of the award because she wanted to "go all out."
Global media and many of the Oscars attendees have slammed Tems for being inconsiderate to others that graced the award ceremony which was held on Sunday night at the Dolby Theatre, Ovation Hollywood in Los Angeles, US
Tems wore a custom white sculptural gown from Lever Couture, the Ukrainian brand, to the Oscars ceremony.
The songstress co-wrote Rihanna's 'Black Panther: Wakanda forever ' track ' lift me Up' which was nominated for the 'Best Original Song' category.
Tems, was, however, critized after her headpiece literally took up space and became a concern for guests seated behind her.
In a chat with Harper's Bazzaar, the Afrobeats star described her choice of outfit as thinking "outside the box."
"Two years ago, I would've said no to this dress but it's my first Oscars — I am going to go all out. I really wanted to make the most of the day," she said.
"The dress is also my way of celebrating my work and the people around me, celebrating my country, and celebrating the people that are rooting for me. This dress says 'Yes, yes, I am here!
"When I first started out, this was not on my list of things I needed to do but honestly, I am honored. It's the first time I'm in this space.
"It just gives me motivation to keep going and do more and reach my maximum potential."
The 'Crazy Tings' crooner said working with Rihanna and Beyoncé shows that she is doing something unique "which hasn't been done before".
The Oscar-nominated singer added that she will continue to put out songs that will make positive impact.
"It's an indication to me that I'm on the right path and that I am doing something that hasn't been done before," she said.
"If the biggest women in the world love my work to such an extent that they are working with me, then that must say something.
"My work is actually reaching places, it's making some type of impact. And that is insane! I really am just trying to keep my feet on the ground.
"Running and doing things that are a hundred percent authentic to me. Evolving, learning, growing. It's just the beginning for me."