A'Ibom State Govt initiates digital system for bursary payment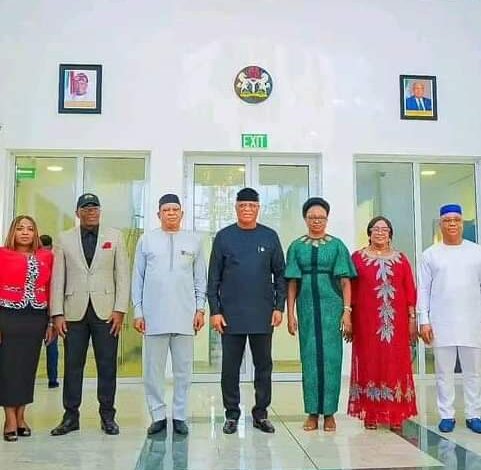 Akwa Ibom State Governor, Pastor Umo Eno, has stated that the soon -to be – paid bursary will be digitally processed and paid to the beneficiary's bank account.
The governor made this known while addressing the management team of the University of Uyo, who paid him a courtesy visit at Government House, Uyo.
He said that the digitalization of the bursary payment process is to ensure speed, integrity and ease in disbursement of the fund to deserving students, adding that government is working towards the timely activation of the process.
He said, "As a government, we are reintroducing the bursary scheme for our tertiary education students. The Ministry is working with universities so that we can perfect the process to make it easier for them. Once they apply and we double check with the data base of the universities or tertiary institutions, we would pay them immediately."
Governor Eno commended the University of Uyo over the impactful role it has played in furthering the education of Akwa Ibom people, and affirmed that the location of the University has been of enormous advantage to its indigenes and the social system.
He said the ARISE Agenda gives priority attention to education especially at the primary level, stressing that it is the desire of government under his leadership to create a solid foundation at least, at the basic level.
The Governor who has demonstrated rare commitment to educational development said, "to us as a government, education is one of the major focus of our ARISE Agenda.We are building model primary schools and we want to train our teachers to ensure that they can deliver the best to our children.
"We are supporting education at the primary level because we believe that if you get it right at that basic level, you would have built a good foundation."
He lauded the feat recorded by the University of Uyo in upholding the integrity of the institution through the quality of its graduates and readiness to always defend its product.