Akeredolu expresses worry over LGs inability to pay workers' salary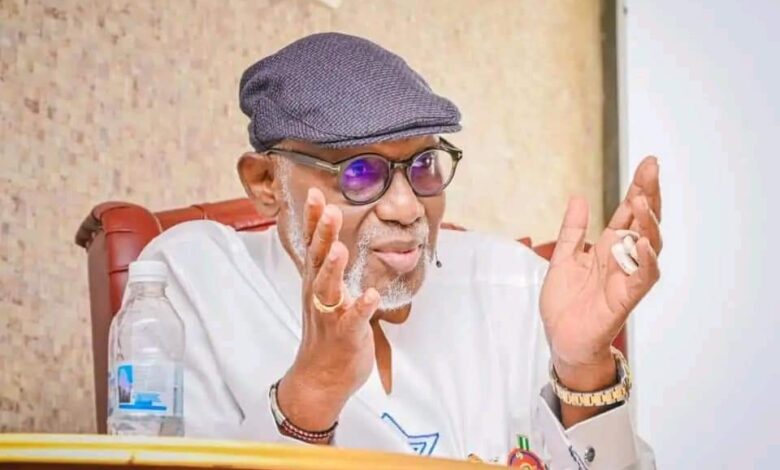 Ondo State Governor, Arakunrin Oluwarotimi Akeredolu, has expressed concern over the inability of local governments to pay workers.
Governor Akeredolu decried the ugly situation, stressing that the local governments are in dire need of intervention.
The governor spoke on Tuesday while playing host to the leadership of Organised Labour in the state, led by the Chairman of the Nigeria Labour Congress (NLC), Oluwole Sunday-Adeleye, who were on a "Thank You" visit to his office.
Akeredolu said: "What is happening in the local governments is a source of concern. At a time they were ahead of the state government in payment of salaries. They even started the payment of salaries in percentage.
"For us at the state level, we were able to overtake them because few money came in and I said these monies have to be used for workers' salaries. Not that we have stopped working. We are still working."
The governor, who emphasised that he has not touched local government money since he assumed office in 2017, noted that his government has allowed them to function independently.
Earlier, the NLC chairman said the organised labour was in the governor's office to express the gratitude of civil servants for the payment of their salaries.
He said: "We have come to say a very big thank you. If we are saying we don't know the inflow of money into government and the percentage salary is taking out of it, we'll be deceiving ourselves.
"We are not unaware of the chunk salary is taking out of the inflow to the state. Of course, civil servants are signatories to the account. We are aware that almost 80 percent of what comes in are expended on payment of salary, which we normally term recurrent expenditure.
"Ordinarily, there is no way recurrent expenditure should be more than capital expenditure but because of your policy and determination to see that you do not owe workers, you even paid the ones you inherited. That is why, today, we are enjoying this leverage.
"You paid three salaries within ten days. October, leave bonus and November salaries. And luckily, my joy is that leave bonus is not taxed and we don't put mortgage on it. We don't use leave bonus as a collateral.
"You have said it severally, that you have not given us a dime personally, whether to bribe or do anything. But we have also looked at it that if government is committing larger percentage of its income into salary, then we cannot ask for anything better than that.
"We can only pray for its sustenance. It got to a stage, I was even afraid, looking at what you are doing and wondering where you would get the money to finish these projects before you leave office .
"Mr Governor sir, if we would not be asking for too much, you would agree with me that we have about five services in Ondo state that the Head of Service superintends over. We have the Civil Service, TESCOM (Teachers in Secondary Schools), Local Government Service, SUBEB, Judicial Service and Assembly Service, which to some extents, is still part of Civil Service as at now
"And we are not unaware that the state FAAC receipts cover the state Civil Service, TESCOM, Judiciary and Assembly, while the JAAC (Joint Account Allocation Committee) covers Local Government Service, SUBEB and their respective pensioners.
"It is on record that since you came on board, you have never touched local government money. Not that they told us but because we know. As God would have it, two of us here are representing labour on the committee of JAAC. That is the NULGE President and the NUT Chairman, and they always came back to give us report.
"As at today, only few will understand that our source of salary is different. People believe salary is salary. It is a big request to help us see into the local government arrears. They are the closest to the grassroots."