Akeredolu inaugurates new refrigerated van for meat dealers in Ondo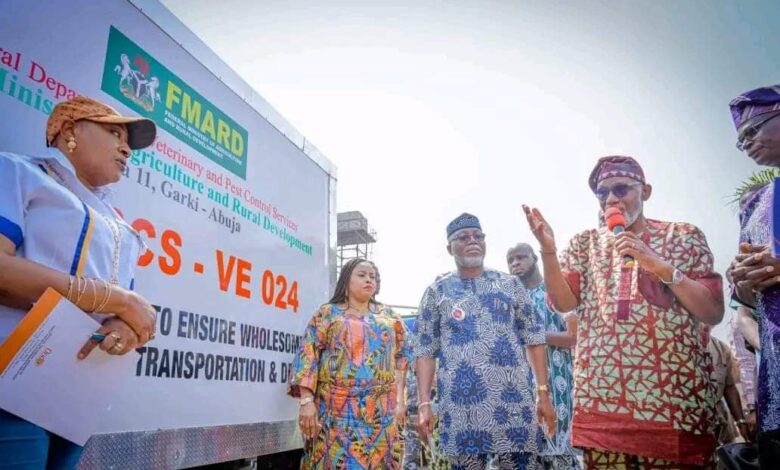 •••says APC-led FG has made laudable marks
Ondo State Governor, Arakunrin Oluwarotimi Akeredolu on Friday inaugurated a new Refrigerated Van for the use of meat dealers under the auspices of Butchers Association in the state.
Akeredolu handed-over the new Refrigerated Van to the Chairman of the association at the Governor's Park, Governor's Office, Akure.
The Van was donated by the Federal Government through the Federal Ministry of Agriculture and Rural Development in conjunction with Federal Ministry of Humanitarian Affairs, Disaster Management and Social Development.
The donated Refrigerated Van is part of the modern meat haulage protocols for hygiene, distribution and delivery of refrigerated meat in the country.
Governor Akeredolu informed the people that the Van was donated by the Federal Government through the State.
He disclosed that there were conditions that were met by the state before the Van was released by the Federal Government.
The governor commended the Federal Government for its numerous efforts to improve the lives of Nigerians.
According to Governor Akeredolu, the APC-led Federal Government has made remarkable marks and blazed the trail in its various developmental efforts.
He said: "We will continue to thank the Federal Government for its efforts. This APC-led Federal Government has blazed the trial in many areas.
"Look at the railway, we have never had this developed railway before. The Second Niger-Bridge, this APC -led Federal Government saw that to fruition.
"This School Feeding program under the APC-led Federal Government is also very laudable. It has never happened before. It is very beneficial to all. The School Feeding program has afforded our children to take nutritious meals in School. It helps their growth."
The governor thanked the butchers' association for their support and cooperation in the State, adding that their consistency over the years is commendable.
Earlier, the Special Adviser to the Governor on Public and Inter-governmental Relations, Mrs. Bunmi Ademosu noted that the governor had earlier donated a bus to the association.
She revealed that the butchers' association in the state has been helping with the distribution of meats for the School Feeding program across the Local Government Areas.
Chairman of the butchers association in the state, Mr. Sikiru Ayinde admitted that it is the first time the association would enjoy government presence in the State.
He thanked the governor for his support, while assuring that members of the association will always show appreciation by voting massively for the APC at all elections.