ANALYSIS: Jay Jay Okocha's self-valuation: my uninformed view, By Bamidele Johnson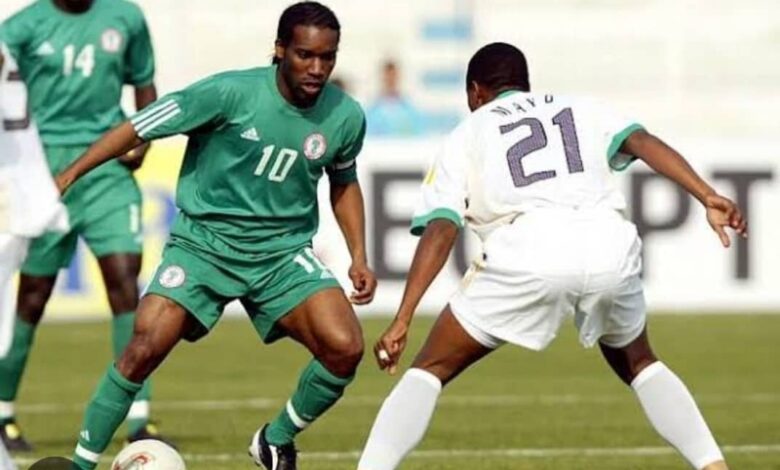 Jay Jay Okocha's subjunctive valuation of himself (€150m) is an interesting one. Would he have cost that much if he was playing today, as he has claimed? Would the version of Jay Jay we knew, an undoubted dazzler, who decorated rather than consistently dominated or influenced games, be valued so highly in today's game? Hard, if not impossible to give categorical. answers.
But he got signed by PSG for a reported £10m, not a shabby amount in those days. Ronaldinho of Brazil, who was equally an edge-of-the-seat performer and more decorated one, was signed by the same employers for £18m.
Both players didn't exactly pull up trees at PSG for different reasons, with Ronaldinho famously prioritising nightlife and prostitutes. Despite posting eye-catching performances, albeit in staccato fashion, he got signed by Barcelona for a big sum. Okocha left PSG on a free for the hardly glamorous Bolton Wanderers, where he shone so brightly and attained iconic status.
Shark in a puddle? Perhaps. There must be a reason he never dined at the high table of the European game before or after PSG, which was hardly that in those days.
I think players are worth what buying clubs are willing to pay for them at any given time. In this stat-obsessed era, which has number crunchers checking chances created per game, XG ratios, goals scored and interception/tackles among other metrics, a fantasist seemingly more committed to leaving fans oohing and aahing, I believe, will be less valued than a more prosaic attacking player with great stats.
I'm not exactly comparing him to Ronaldinho. There's actually nothing to compare in terms of effectiveness. Stylistically, yes. But it would seem that top-tier transfer departments, much less reliant on mathematical models back then, didn't think he was a must-have. Nationality, I believe, plays a role in transfer fees. It's like buying the same item from a street corner shop and a high-end supermarket. There will be a difference in prices. We're he a Brazilian, he'd probably have cost as much as Ronaldinho or just a little less.
Justifying the outlay, I don't believe, has anything to do with nationality. Get the job done, consistently in pressure cooker atmospheres, and you'd have suitors swarming with fat cheques. Of course, there were and still are less gifted players, who bomb after being bought at huge sums, but that shows how quirky the transfer market is. Transfers are a lottery.
In these days of daft transfer expenditure, largely caused by by the Neymar's Barcelona to PSG, stats will conspire against Jay Jay except if willing to be less florid in his approach.