ANALYSIS: Residents head to polls to determine who rules Kogi, Bayelsa, Imo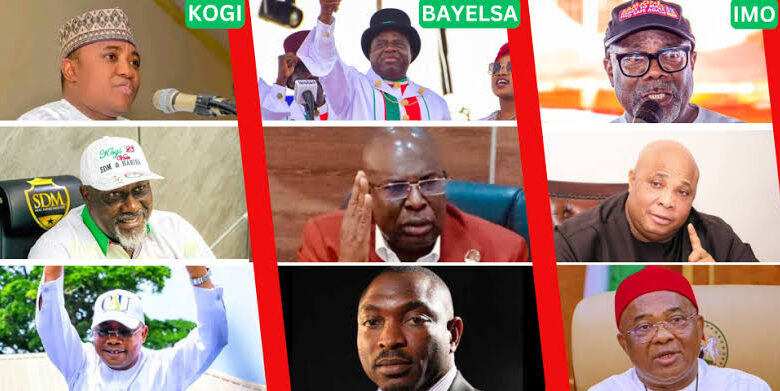 Residents of Kogi, Imo and Bayelsa states will head to the polls on Saturday to elect their respective governors who will lead the states for the next four years.
The three states are part of the seven states where staggered governorship elections were held in the country after the other 19 states elected their governors during the 2023 general elections on March 18.
Kogi State Governor, Yahaya Bello, will finish his second term January 27, 2024 while Hope Uzodinma and Duoye Diri will finish their first terms as Imo and Bayelsa states governors on January 15, 2024 and February 14, 2024 respectively.
Both Uzodinma and Diri who won their various seats via rulings by the Supreme Court will hope to win at the ballot for a reelection.
Both men have a strong opposition or battle towards their bid to secure a second term ticket.
Furthermore, these elections are being held outside of the regular scheduled general elections because INEC does not oversee all governorship elections at the same time during a general election. Kogi, Anambra, Edo, Bayelsa, Ekiti, Osun, Ondo, and Imo are among the states that will hold elections outside of the traditional election schedule.
The traditional process of conducting off-cycle elections in Nigeria is mostly as a result of court orders to rerun several elections following successful lawsuits and the invalidation of some governorship elections by the courts many years ago.
Bayelsa State
An oil-rich state with 16 candidates from 16 political parties will slug it out to become the state's governor. The incumbent, Diri would have to fight the federal might of the ruling political party of the APC.
The election is believed to be a two-horse race between Governor Diri and his main challenger, Timipre Sylva, a former governor of the state who the Appeal sitting in Abuja had given a nod to contest in the polls following his initial disqualification by an Abuja Federal High Court on October 9.
Demesuoyefa Kolomo, an APC member in the state, has contested Sylva's eligibility to run as APC governorship standard bearer on the grounds that he had violated the requirements of the 1999 constitution by being sworn in twice and ruling for five years as governor of the state.
In this election, approximately 1,056,862 registered voters will decide the fate of the 16 political parties fielding governorship candidates in Bayelsa.
Despite possessing an abundance of natural resources, including oil and gas, the state is impoverished due to poverty, unemployment, and inadequate infrastructural development. This is a result of past presidents' inability to address the state's underdevelopment.
Because of this, insecurity has continued to play a significant role in the state's electoral process. Incidents of kidnapping for ransom and militancy, which are frequently connected to the Niger Delta, pose a threat to the Bayelsa election.
22 persons were slain in the state of Bayelsa during the 2019 election, according to Seriake Dickson, the governor at the time. He asserted that the majority of those slain belonged to his PDP party.
Kogi
About 1.9 million Kogi residents who are registered to vote will choose a new governor in an off-cycle election that will be fiercely contested by the APC, PDP, SDP, and 15 other political parties.
There are eighteen candidates vying for the governorship on Saturday; seventeen are men and one is a woman, Zenith Labour Party (ZLP) candidate Suleiman Taiye Fatima. The youngest candidate is Muhammad Umar of the Boot Party, who is 40-years-old.
However, the main players are Murtala Ajaka of the Social Democratic Party (SDP), Dino Melaye of the Peoples Democratic Party (PDP), and Usman Ododo of the ruling All Progressives Congress (APC).
The outgoing state governor, Bello, and his anointed candidate, Ododo are both from the Kogi central senatorial districts and they would have to battle Ajaka of the SDP who also hails from the Igala axis of the state.
The South Central senatorial district has only five local governments – the fewest of Kogi state's three districts. Adavi, Ajaokuta, Okehi, Okene, and Ogori-Mangogo are the LGs.
Former senator Dino Melaye of Kogi West district and PDP presidential candidate says he wants to first bring the people back together, claiming that under Mr. Bello's divisive leadership, they had grown extremely divided.
A member of the African Democratic Congress (ADC), Mr. Abejide, popularly known as Elder Leke, is a fervent supporter of President Bola Tinunu's Renewed Hope agenda. Splitting votes for Messrs. Melaye and Abejide is a possibility in this district, which would lessen the PDP's prospects of victory.
Ajibaje, who represents the Yagba East/Yagba West/Mopa-muro Federal Constituency, is not considered a major danger to his competitors, despite having a running mate from Igalaland.
For Ajaka, analysts believe Ajaka is largely the youth favorite and perceived to be a headache to the ruling APC party.
Ajaka who was an active APC member until May, is regarded as a strong contender because he is from Kogi East senatorial district, which has the most local governments in the state.
The district, which includes Idah, Ibaji, Igalamela/Odolu, Ofu, Dekina, Ankpa, Olamaboro, Basa, and Omala, accounts for over half of all registered voters in the state.
This region is home to almost 900,000 of the 1.9 million registered voters in Kogi, according to INEC pre-election data. Mr Ajaka's victory is assured if they all vote for the SDP.
Kogi elections have remained a hotbed and troubled state of violence with the use of thuggery and ballot stuffing of votes.
Based on reports from the press and independent observers, the most recent off-season elections in 2019, especially the one in Kogi that elected the current governor, Yahaya Bello, for a second and last term, were tainted by widespread violence and electoral fraud.
Also, elections in the state have always experienced low voter turnout. Three out of every five voters may not cast a ballot on Saturday, according to a survey done by the Nigerian data daily Dataphyte ahead of the Starday polls. This suggests that voter apathy is widespread.
Imo
There are 18 candidates who were cleared to contest the election, according to data from INEC. The election is partially contested by a three-horse race among the APC, PDP and LP.
They are Uchenna Okere of Accord (A), Jack Ogunewe of Action Alliance (AA), Ifeanyi Awulonu of African Action Congress (AAC), Otumbadi Okoroma of African Democratic Congress (ADC), Steve Nwoga of Action Democratic Party (ADP), Goodhope Uzodinma of ruling All Progressive Congress (APC), Anthony Ejiogu of All Progressives Grand Alliance (APGA) and Chibuike Edoziem of Allied Peoples Movement (APM).
Others are Obieze Achilike of Action Peoples Party (APP), Isaac Iwuanyanwu of Boot Party (BP), Nneji Achonu of Labour Party (LP), Ben Ofunzeh of New Nigeria Peoples Party (NNPP), Cole Okwara of National Rescue Movement (NRM), Samuel Anyanwu of the People's Democratic Party (PDP), Ishiodu Uchechukwu of People's Redemption Party (PRP), Bright Ekwebelem of Social Democratic Party (SDP), Chino Opara of Young Progressives Party (YPP) and Andy Chibuike of the Zenith Labour Party (ZLP).
Governor Uzodinma, who is running for a second term, was a senator for the PDP from 2011 to 2018 while representing the Imo West district.
The incumbent governor has voiced unhappiness with the union arm of the LP, accusing it of playing partisan politics and shutting down its government in defiance of court orders. He would be seeking to win back his seat as governor in order to counter this force.