APC accuses PDP of plot to unleash fake news against Tinubu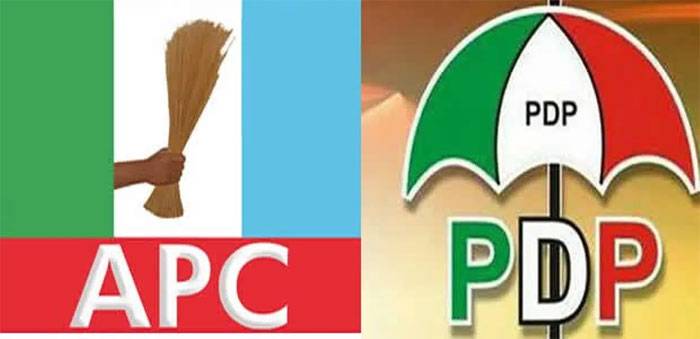 The Presidential Campaign Council (PCC) of the All Progressives Congress (APC) has accused the Peoples Democratic Party (PDP) of planning to unleash fake news on Asiwaju Bola Tinubu.
The APC PCC in a statement by its Director of Media and Publicity, Bayo Onanuga said the wave of fake news especially in Hausa language is set to malign, defame and delegitimise Tinubu and the APC before Nigerians.
"We uncovered this evil plot targeted to manipulate Nigerians and most especially Northerners to see Asiwaju Bola Tinubu in bad light as the only way for PDP and its failing presidential campaign to have a chance at the February 25 presidential election.
"We consider it necessary at this point to advert the mind of Nigerians to this evil plan capable of causing disharmony, ill-will and needless crisis with attendant security implications in the country.
"PDP and their hired social media influencers have already started pushing their nefarious contents by spoofing and using parody social media accounts of popular newspapers and blogs to disseminate fake news with the sole aim of hoodwinking gullible Nigerians.
"Many parody social media accounts such as 'Vanguard Hausa', 'DailyTrust Hausa' have been created and also being used to circulate fake news on Facebook, Twitter, Instagram, WhatsApp and other digital platforms.
"On Facebook, we found that Daily Trust Hausa was first created as K.R.K Media on 9 August 2021. It changed its name to Daily Trust Media on 7 December 2022 and has a fake website address daily.com.
"A second Daily Trust Hausa Facebook account was created 13 August 2022 as Facos News Hausa, with the objective of publishing posts on Musicians. It changed its name on 29 December 2022, just 22 days after its other clone.
"Vanguard Hausa was created 21 December 2021. Its website failed to open
"All these parody Facebook accounts were used by the PDP on Saturday to publish malicious fake news that trucks carrying old Naira notes, belonging to Tinubu were arrested in Lagos.
"For clarification, Daily Trust does publish a Hausa paper called Aminiya, which is also on Facebook with the same name. We are not aware that Vanguard has a similar publication.
"We implore the two newspapers, Daily Trust and Vanguard to inform Facebook and Meta that they have been cloned by fake news merchants, for political offensives, masterminded by PDP.
"Part of the PDP's evil machinations will be to make false claims and allegations against President Muhammadu Buhari, Asiwaju Tinubu, his running mate, Senator Kashim Shettima and other APC National, Regional, Zonal and State leaders in manipulated videos, doctored voice overs, photoshop images and other means all in a bid to win election by hook or crook.
"PDP and its Presidential candidate, Alhaji Atiku Abubakar know they can't win this coming election. They also know Nigerians will never vote for PDP to take over the leadership of Nigeria after inflicting 16 years of misery on Nigerians.
"The legacies the party left behind were insecurity, badly managed economy, looted treasury, derelict national infrastructure in roads, power, ports, rail, pipelines among many others. The Buhari administration is still struggling to unmake the massive damage done to our country by the party," the statement read.