APC meets Lagos market leaders, to stage mega rally on Saturday for Tinubu, Sanwo-Olu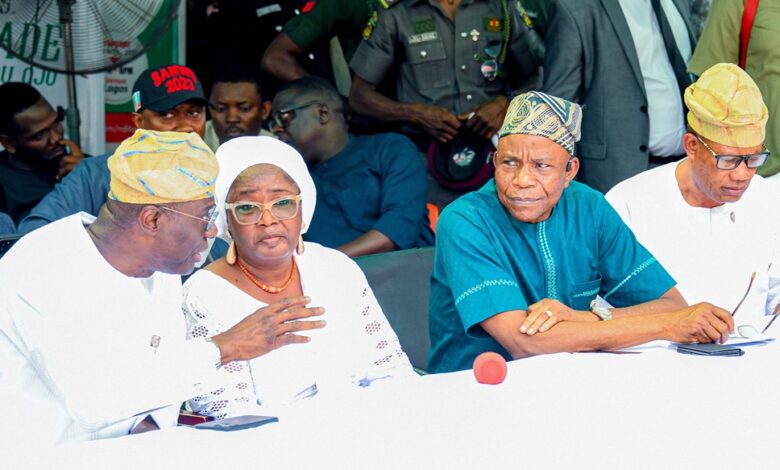 All Progressives Congress (APC), Lagos State chapter on Tuesday met with market leaders in the state , to solicit their support for the party ahead of 2023 general elections.
The party delegation was led by the state governor, Mr. Babajide Sanwo-Olu, alongside his deputy, Obafemi Hamzat, the state party chairman, Pastor Cornelius Ojelabi and the Director -General, Sanwo-Olu Campaign Organisation, Sen. Ganiu Solomon.
Speaking at the event which was held at the residence of APC pesidential candidate, Asiwaju Bola Tinubu's mother, late Alhaja Abibatu Mogaji, at Alausa, Ikeja, Sanwo-Olu thanked the market leaders for their support for his administration and APC.
He pledged his administration's commitment to continue to provide a safe haven for market activities to thrive across the state.
Sanwo-Olu urged the traders to participate actively in the forthcoming general elections, promising to continue to give them all the necessary support that would make life better for them.
He implored market leaders to get their Permanent Voter Cards and ensured the victory of the party in the 2023 general elections.
The governor disclosed that before the end of December, the state government would gave grants to traders in the state.
According to the governor, the grant would be given to 100 traders per market across the state.
In his address, Pastor Ojelabi charged the market leaders to reciprocate the kind gesture of the governor by voting massively for their party.
He said market leaders are critical stakeholders to the party and its agenda to continue to be the ruling party in Nigeria.
Ojelabi disclosed that the market leaders had already being incorporated into the Polling Unit Committee set up across the state to ensure the party's victory.
In her response, Iyaloja-General of the state , Folashade Tinubu-Ojo assured Governor Sanwo-Olu and all APC candidates of their support in the forthcoming general elections.
She said traders in the state were fully ready for the forthcoming polls and pledged their total support for APC.