APC PCC asks Atiku to respond to reports on health, corruption allegations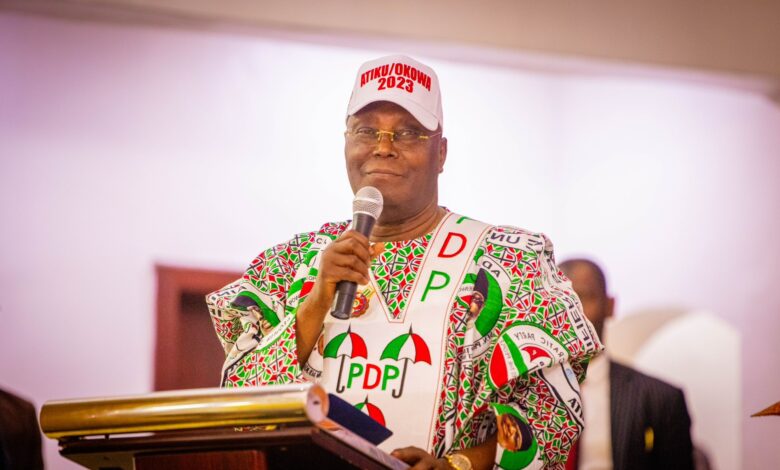 The Presidential Campaign Council of the All Progressives Congress (APC PCC) has asked Peoples Democratic Party (PDP) presidential candidate, Atiku Abubakar to respond to media reports on his health and fresh corruption allegations against him.
There were reports in a section of the media that the former vice president was rushed to London for treatment from his base in Dubai.
His former side, Michael Achimugu in a trending video he released also accused the PDP candidate of setting up Special Purpose Vehicle (SPV) accounts to siphon government funds while he was in office.
In a statement on Wednesday, Director of Media and Publicity of the APC PCC, Bayo Onanuga challenged the former VP to react to the issues about him on ground.
The statement read: "It's time for Atiku Abubakar, the 76 year-old presidential candidate of Peoples Democratic Party to come clean over two issues clouding his campaign: his  health status and his scandalous confession of how he colluded with his former boss, Chief Olusegun Obasanjo to fleece the Nigerian treasury, using the special purpose vehicles after he became Vice-President in 1999.
"If Atiku has some modicum of honour, he ought to have stepped down from the race that he is bound to lose again, following the release of his audio clip, in which he provides a vivid explanation into the modus operandi of his legendary corruption.
"So far, there has been no notable response from Atiku's camp about the disturbing revelation, except for a futile attempt to disown the whistle blower, Michael Achimugu, a media consultant to Atiku.
"Nigerians are appalled that Atiku and PDP are so shameless that they have shrugged off the bombshell.
"We implore Nigerians, however, to hold Atiku to account over the shocking revelation by rejecting him at the polls in February.
"Atiku is also not talking about his health status even when his hirelings daily make futile attempts to divert public attention to his main rival by cooking up lies upon lies. Whereas Atiku is the candidate that Nigerians should be sorely worried about. The lies of several years and the various diversionary tactics are no longer sustainable. Atiku's edifice of lies is about to crash on him. The PDP presidential candidate is certainly not okay, the papering efforts notwithstanding.
"Eyebrows were raised when Atiku did not return to the country after the December holidays to continue his lacklustre and faltering 5th campaign for Nigeria's presidency. Amid the concern by political watchers that Atiku was missing from 21 December, 2022 on the field of electioneering campaign, came the story by the online platform Sahara Reporters that Atiku was flown to the UK from his usual home in Dubai to London for treatment.
"The story has not been vigorously denied.
"We have it on good authority that Atiku indeed fell ill, while missing on the field. He was indeed in the UK for some medical help, though handlers camouflage that he was there on the invitation of some British officials at Whitehall, in a mimic of the earlier visit of the APC rival, Asiwaju Bola Ahmed Tinubu.
"Despite the efforts by his handlers to showcase Atiku as healthy and physically fit to endure the rigours of the presidential campaign, pictures from rallies have belied this. Campaign pictures sometimes showed him being helped to descend steps at stadia. Sometimes, he walked with apparent handicap, dragging his feet.
"The irrefutable insight into Atiku's health status was the revelation by his divorced wife, Jennifer Douglas last year that Atiku was admitted to a German hospital for operation, amid their bitter divorce.
"In a viral letter published February 2022, Jennifer quoted Atiku's self admission that he was in Germany for medicals, which explained why he was unable to retrieve his belongings from a Dubai house that Jennifer had taken over.
"A man who wants to rule Nigeria and wants Nigerians to repose some trust in him must immediately and honestly address these twin issues: his health and his legendary corruption."