Aregbesola no longer our leader in Osun APC, says Basiru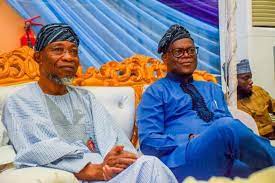 By Deborah Oladejo, Osogbo
The immediate past spokesperson of the Senate, Senator Ajibola Basiru, said that former Interior Minister, Rauf Aregbesola, is no longer the leader of the All Progressives Congress (APC), in Osun State.
Briefing journalists at his constituency, Basiru, who represented Osun Central Senatorial District in the 9th Senate, noted that in the past three elections, both at the state and national levels, the former minister was not seen participating in any of the party's activities.
His words: "I can say today that the leaders of our party are Baba Bisi Akande and immediate past governor of the state, Gboyega Oyetola. Journalists, you can verify, we have had four important processes leading to the general elections.
"There was the primaries that brought Asiwaju Bola Ahmed Tinubu at Eagles Square. You as journalists, go and ask those people that said they have tent and their leaders, what role did they play in the emergence of Asiwaju as the candidate of our party?
"Even today, they claim Asiwaju is their mentor; he is your mentor but you did not deem it fit to support your mentor to emerge as the candidate of the APC. It is a moral question that they must answer, not me. I was at Eagles Square and for two years, I was visiting one part of the country to another without collecting any kobo from anybody, working seriously for the emergence of Tinubu.
"Secondly, we had a governorship election in this state, did he vote for the party? Asiwaju Bola Tinubu contested on the same day that I contested the National Assembly election, our former minister, former leader was not around to vote for his benefactor and mentor.
"It's on record that he didn't come to campaign, he didn't come to support the party and he didn't even come to cast his vote for Asiwaju Bola Ahmed Tinubu.
"We also had the House of Assembly election. Did he go to vote at that election? Did you see him near the perimeter fence at that place?
"So, nobody is aggrieved. I am not certainly aggrieved. We that are here are genuine members of the APC. So, these are the genuine members. Those that are not genuine, go and ask them why they are not genuine. I told you he (Aregbesola) was our leader but I don't know which party he belongs to now. I don't know, on a more serious note. Quote me, he was our leader but I don't know which party he belongs to. For the past three elections, we have not seen him participating in any of our party's activities.
"So, I can't mention somebody I don't know. So, you can ask him which party he belongs to. Today, I am in APC; I worked for APC whether we win or lose. Go and ask him, which party did he vote for in the governorship election, which party did he vote for during the presidential election, which party did he vote for during the House of Assembly.
"I am not sure whether he is still within the party. I am not abusing him. Even Asiwaju that is his benefactor, he didn't vote for him. Is it a beneficiary that will now be angry that he didn't support me during election? I am not angry."
Basiru said that members had huge responsibilities to work to strengthen and reposition the party to winning ways in the coming elections in the state.
"I have since sent my thoughts, by way of memorandum, to Prof. Isaac Adewole-led committee repositioning our party. I believe our leaders, Baba Akande and Oyetola are committed to leading our party to winning ways in the next round of elections.
"We also have responsibilities to support the administration of President Bola Tinubu, which success will greatly contribute to the success of our party in subsequent elections," he added.