Artisans get N265m palliative supports from Kwara govt to ease currency, fuel crisis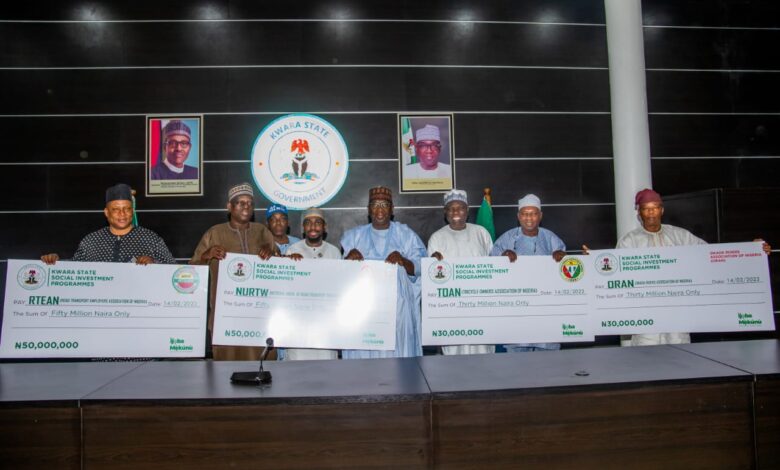 By Mosunmola Ayobami, Ilorin
Kwara State Governor, AbdulRahman AbdulRazaq on Thursday presented cheques totalling N267million to different artisan groups in fulfilment of the administration's pledge to give palliatives to various vulnerable groups that have been hard hit by the naira redesign crisis and fuel scarcity.
The governor said the support should translate to ease on the people who enjoy the services of the different economic groups.
The benefitting groups were the Association of Master Bakers and Caterers of Nigeria (AMBCN) which got N100million; Tricycle Owners Association of Nigeria (TOAN), N30million; Okada Riders Association of Nigeria (ORAN), N30million; Road Transport Employers Association of Nigeria (RTEAN), N50million; National Union of Road Transport Workers (NURTW), N50million and Nigeria Union of Tailors, N7million.
Presenting the palliatives to the beneficiaries, AbdulRazaq appreciated their different crucial roles to serve the public and assist the local economy.
"This is a challenging period for everyone, particularly the transporters and artisans as a whole. There is scarcity of cash in the country. You also face the high cost of spare parts. How do you survive this? We know there is a light at the end of the tunnel. We know your challenges and hope everything will be over soon," he said.
AbdulRazaq also said the government is aware of the difficult time that bakers are going through, thereby presenting them the palliatives to keep them afloat and prevent job losses, which might hurt the economy and social stability.
NURTW Chairman in the state, AbdulRazaq Ariwoola, thanked the governor for his government's serial support for transporters in the state which he said started since 2020 after the outbreak of covid-19 pandemic.
AMBCN's state Chairman and owner of Alaba Bread, Alhaji Abdulfatai Alaba, said: "We master bakers are happy with what His Excellency has done. It has never happened before. You can count on our support, because doing so will give us an opportunity to enjoy more dividends from your government and serve the general public."
The governor had on February 9, 2023, promised to give palliatives, including cash transfers, to different vulnerable groups to reduce hardships associated with the recent naira redesign policy and fuel scarcity in the country.