As business guru, Mike Adenuga hits 70, By Funso Arogundade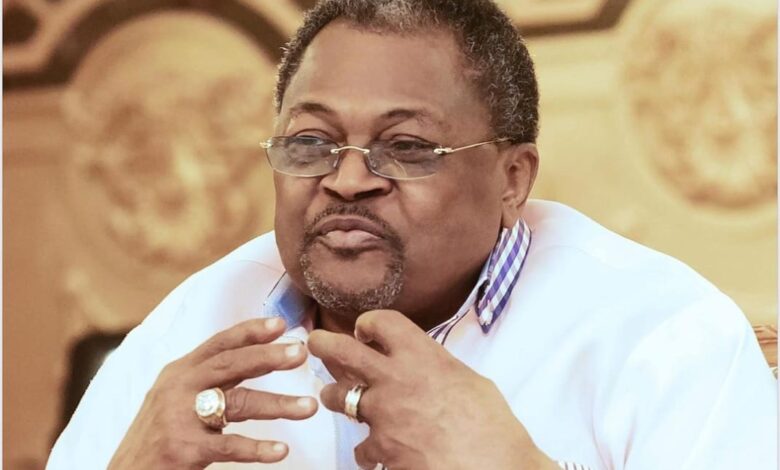 There are few great men and women alive who have helped define the course of history and shape the destinies of nations that would have epics and classics written about them. One of such is no other than the incredible and compelling empire-builder, Dr. Mike Ishola Agbolade Adenuga Jnr.
The Nigeria's billionaire mogul is an enchanting paradox that keeps perplexing even the most discerning minds with the manner of the hard-to-unravel riddle of his life.
He is a globally acknowledged man of incredible means, affluence and influence, yet he seeks refuge in near anonymity, choosing to stay out of publicity.
For a man with a humble beginning, Adenuga's parade of progress and conquests has been endless. He paddled through all manner of odds on the seemingly low-tier end of business, selling drinks and lace materials to become a mint-fresh millionaire at the age of 26 in 1979. At age 40, he struck crude oil in commercial quantities and launched a revolutionary telecoms behemoth at 50.
Adenuga has dominated the business space in the last four decades with an empire straddling commodity trading, real estate, banking, finance, oil & gas, hospitality, stocks, telecommunications, manufacturing, construction and more.
The magnate regarded as Africa's best kept treasure makes cash every second. He singularly provides a source of livelihood for tens of thousands of Nigerians, and much more indirectly. They, in turn, pay taxes to the state and tithes to the temple.
Despite his forays into the sometimes treacherous terrain of business, Adenuga obviously got to the pinnacle of entrepreneurship by playing according to the rules.
He abhors corporate heist. His odyssey as oil tycoon spoke much. In the early 1990s, Adenuga was lucky to have got an oil block but instead of selling it and making fast cash like some others would do then, he chose to be an entrepreneur.
Adenuga prospected, drilled and made history: he hit oil in large quantity and became the first Nigerian to do so.
In the early 2000s when some telcos were giving glamour to a new form of corporate heist, Adenuga stormed the arena with his Globacom and started Per Second Billing from the outset. By that gesture alone, Adenuga gave one thing to long-suffering Nigerian consumers: Victory.
Given his role in many jobs-creating enterprises and silent philanthropy, the least Adenuga deserves is some respect. And he has been getting them in quantum.
In recognition of his immense contributions to the Nigerian economy, Adenuga —in 2012— was bestowed with Nigeria's second highest national honour of the Grand Commander of the Order of the Niger, GCON.
The "Guru" as he is fondly called in Nigerian social circles was the second Nigerian individual outside government to receive the award.
In 2018, President Emmanuel Macron conferred his country's highest national honour of Commander of the Legion of Honour on Adenuga which also makes him the first Nigerian to be decorated with the award. And the man with the special title of Apesin Ola is earning more today, Saturday April 29, as he clocks 70.
Many would be delighted to openly celebrate this most generous giver and a silent donor to worthy causes but Spotlight learnt the new Septuagenarian has appealed to those who wish to celebrate him to do so in modesty and decorum just as he has chosen to be at home in his ultra-luxurious 'Bellissima on the Waterfront' Villa in Banana Island, Ikoyi, Lagos with his family to reflect and thank God for the 70 years of abundant grace.
Yet, no one forgets a good man as the society is already buzzing and bubbling —albeit with no loud parties— but tons of tributes that tell of the exploits, encounters and generosity of the man known to some of his admirers as 'The Spirit'.
With or without a party, the world is celebrating one of Africa's greatest and wealthiest titans who as a true Christian and Catholic likes to give without making any noise.
To some, whatever may be Adenuga's shortcomings, he compensates through his generous spirit and giving lifelines to humanity in need.
The billionaire prefers to conduct his philanthropy in strict anonymity in an environment where most men and women of means would not give if no one is watching or willing to cheer.
And as he joined the septuagenarian club, Adenuga hopes to remain that exceptionally private but busy man who spends his time creating wealth as well as helping humanity to live a very good life. And it's appropriate to say to this magnate with the Golden Touch, 'long live the Guru!'
Source: The Sun Newspaper