As campaign '23 begins… By Mazi Abe Idris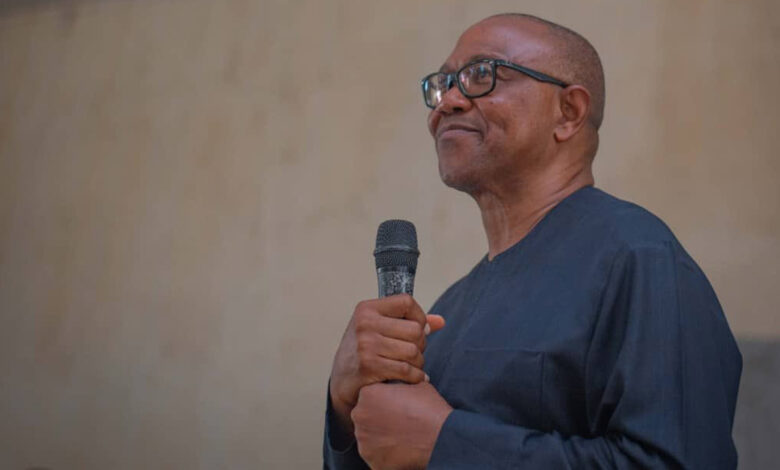 Without doubt, Obidient is a movement, a force that is currently rocking the political landscape of Nigeria.
Sowore's "Take it Back" also started out as a revolution movement, that finally petered out to a meager 33,353 votes, out of a collated 28,614,190 million votes.
The much touted "third force" could only muster less than 1% of votes cast in 2019.
Different factors could account for such a dismal outing at the polls, despite all the shouting and bravado of Sowore and his beret wearing supporters.
However, the two major reasons that stand out, are voters apathy and lack of basic political structures.
For the 2019 Presidential election, overall voters turnout was 34.75%, of a possible 82 million registered voters.
Historically, the percentage of youth turnout on Election Day in Nigeria has always been low.
That is a fact.
There are also different reasons for that, which I hope the Obedients will debunk, with facts, not insults.
Secondly, Sowore and his Party, AAC, lacked basic "on ground" political structures.
Hurriedly set up Party headquarters were littered around the country, more to meet INEC requirements, than to serve the serious and rather tedious purpose of a Presidential election, in such a big and politically diverse country as Nigeria.
Sowore was the spearhead of the "Take it Back" movement.
His trademark beret and clenched "black power" fist was his political structure.
He was a one man soldier.
Internet savvy youths were his foot soldiers, more like e-Warriors.
Damaging political gaffes, like disrespecting the Ooni of Ife, became an albatross round his neck.
Many began to doubt his ancestry.
One man maketh not a President.
So, let's juxtapose all mentioned above, with the new political movement bestriding the polity : The Obidients.
Similar to the Take It Backs, a decent bulk of the Obidients are the youth.
They are restless, frustrated and deprived.
They are also vocal and Internet savvy.
On the surface, Obidients seem detribalized in support, like Sowore's, but in reality, the support base is Igbo with a sense of entitlement, although they are quick to deny it.
Their denial of tribalism, comes across like when a white man is accused of racism and he points out :
"Many of my friends are black"
Haaaa!
Political Structure?
By political antecedents all over the democratic world, Labor Party is a Worker's Party.
The People's Party.
The Obidients Labor Party of Nigeria is not a Worker's Party.
The Labor Party of Nigeria should have been an offshoot of the Workers umbrella: NLC.
Far from the military era, when the NLC was a thorn in the flesh of military juntas, it's political wing has been hijacked by chancers like Oshiomole, who used the Workers platform and his khaki Conductor suits to blindfold us and grab power, then abandon the Labor Party and conveniently slide into the ruling Party.
Mimiko, the same.
Now, Peter Obi.
The Labor party has become a party of disgruntled leaders, who could not see eye to eye with their elite friends and decide to ride the political structure of the Workers, to try and grab power.
Peter Obi is a rich man. He is an industrialist. He is not a worker, but an employer of labour.
The sort that sit at home on May 1st, Worker's Day, sipping expensive cognac and changing the news channel, when Femi Falana's mug appears on tv, shouting himself hoarse at Freedom Square.
He can't wait for the blaady peasants to get back to the factories and brew more bier.
Of course, until election year, when he sports a comrade beret for photo ops.
The big man represents all that long suffering workers resent.
He is a conservative, not a proletariat.
He is upper class bourgeoisie.
"Peter Obi of Labour Party" is a misnomer.
The Labour Party is a mere vehicle for his Presidential ambition.
There is nothing wrong in political opportunism, but let's call a spade a spade.
"The end justifies the means" is the words of political philosopher, Nicolo Machiavelli
When you talk of Labor Parties that metamorphosed into worthwhile political movements, you mention Worker's Leader Lech Walesa of Poland, a poorly work-yard electrician, who eventually led the Labor Union Solidarity Movement to power and became President. He also won the 1983 Nobel Peace prize, for fighting peacefully, to gain Democracy for his people.
In fact, with the way Obidients are insulting and cussing opponents everywhere, Peter Obi will not even win the 4 yearly Abubakar Abdulsalam Peace accord jamboree in Abuja.
I was talking Political Structure ké?
Oh Yes.
The Labor Party's political structure is grounded in a sprinkling of states across the nation and many protagonists of the Party have collapsed their structures and taken them to parties of better belle infrastructures.
In a final analysis, the APC and PDP have grounded political structures that have stood the test of swimming the rough waters of our national polity.
Earlier in the year, while Peter Obi was still busy fighting Atiku for the PDP mandate, the APC had quietly gone about setting up INEC stop shops all over the country, feeding and paying their officials and bus loading thousands of local residents, to register for voting in 2023.
I saw and witnessed it many times.
APC and PDP have readymade, mounted, strong, localized structures, while Obiendients are still learning how to lay German foundations.
Every politics is local.
That is what winning an election is about : First Register your members, then make sure they vote, whether by persuasion, inducement, or cohesion.
Any way, is a way.
If you don't play the lottery, you can't win the lottery.
It's not by trampling up and down Abuja Boulevard, with old grandee Charly Boy parading 15 bodyguards in tow.
All that na śhakátú.
Structures vote, Movements move.
Abe Idris is a public affairs analyst