At Arewa endorsement rally in Lagos, Tinubu pledges to honour campaign promises to Nigerians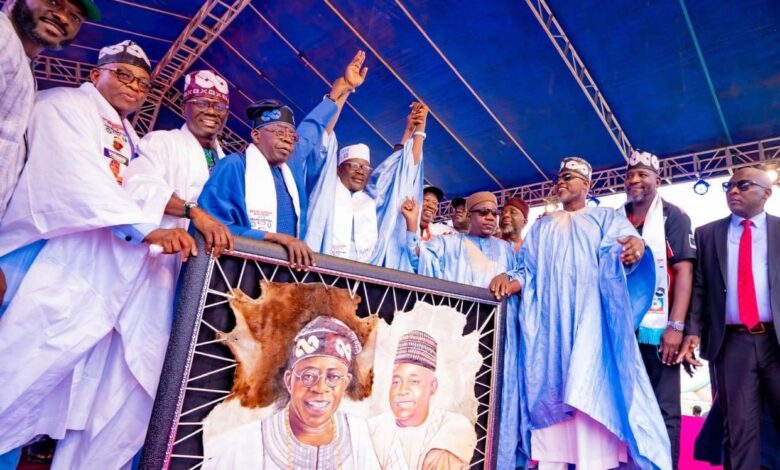 …assures of fairness to all tribes
The presidential candidate of the All Progressives Congress (APC), Asiwaju Bola Ahmed Tinubu has pledged to honour all his campaign promises to Nigerians.
Tinubu spoke on Sunday in Lagos at an endorsement rally organised by the Arewa Community ahead of next month's presidential election.
The event, which took place at Mobolaji Johnson Stadium, Onikan saw people from all the Northern states offer their support for the presidential aspiration of Asiwaju Tinubu who they described as a detribalised Nigerian.
The APC presidential candidate promised that under his leadership, Nigerians will live in peace regardless of ethnicity and religious differences.
"My respect for this country will continue to increase, and I will honour all my pledges that we all will live in harmony. We belong in each other's hearts," he noted.
In his prepared speech, Asiwaju Tinubu also assured that his government would be for all Nigerians, not favouring any religion or tribe.
He said a testament to this was when he, as Lagos State governor, appointed people into the state cabinet from other regions of the country.
"From the moment I enlisted in politics, I have always been nationalistic and detribalised in my approach. I do not operate on the basis of ethnicity, region or religion. I have friends and associates in all corners of this country.
"As governor of Lagos State, I constituted a cabinet, comprising competent people from all parts of Nigeria. We had the Yoruba, as we had the Igbo and Arewa. What was important to me was not your ethnicity or creed, it was your competence and the value you would bring to governance and people.
"To replicate this feat for the country is why I have offered myself for the presidency," he said.
On his plans for the country most especially for the North, Tinubu promised to tackle the security situation being experienced across the country, stating that the economy cannot thrive in an insecure environment.
He added: "If elected president, my highest priorities shall be the protection of our land and prosperity of its people. I shall tackle this nation's problems with a commitment to solving them.
"I will give priority to confronting security, making the economy one of widely shared prosperity and paying special attention to agriculture like the present government of President Muhammadu Buhari.
"On security, my policy is not an artificial created to sound good for this campaign. Our security policy is based on dedicated study and long conversations with experts in this field.
"I used the same approach to tackle the bad security situation that faced me when I became governor of Lagos. I created programs and institutions to solve the real and dangerous challenges Lagos faced. I shall increase security personnel and better equip them. Advanced air and ground surveillance technology will identify, track and attack the criminals until they are utterly defeated."
He also promised to provide jobs for the nation's youths, while also ensuring that electricity generation is improved to allow more people to start up small businesses to feed their families.
He added that great attention would be given to agriculture, to ensure that there is increased food security through enhanced productivity and improved farm incomes, thus returning farming to its prominent position.
He said massive investments would be made in road and rail infrastructure to ensure easy movement of goods and products while also strengthening the education sector to guarantee the future and guide the youth toward better lives.
"We will invest in the Kolmani Oil Wells Project inaugurated by President Buhari and indeed in all vital infrastructural projects such as the Mambilla Power Project, the AKK gas pipeline projects.
"We shall revive our inland waterways through the dredging of the River Niger and make sure we cut down on our steel import bill by making the Ajaokuta Steel Company work," he added.
Kano State Governor, Abdullahi Ganduje said Nigeria is a country of diversity and noted that Asíwájú Tinubu has demonstrated that he could utilise the country's diversity for development and prosperity.
"He is a symbol of unity, a product of unity in diversity. He is the right person to be endorsed by Arewa and the best for the presidency," he said.
The Chairman Arewa Community APC, Alhaji Saadu Yusuf Gulma Dandare, said Asíwájú Tinubu had done a lot for Lagos and Nigeria, adding that if the country has more of him in each geopolitical zones, it will be a better place and people will not be flocking Lagos.