Banji Akintoye back as leader of Ilana Omo Oodua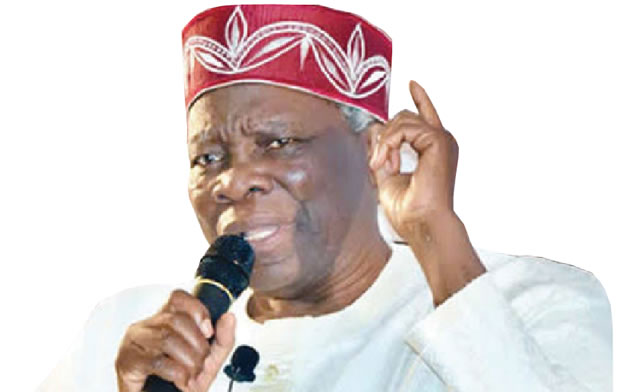 Renowned Professor of History, Banji Akintoye is back as the leader of Ilana Omo Oodua, the group agitating for a separate country for the Yoruba Southwest in Nigeria.
Akintoye, who had resigned as the leader of the group three weeks ago, said he rescinded his decision following interventions by various groups and eminent Yoruba personalities.
The former Second Republic senator said he has decided to come back to the group in a letter, on Wednesday, entitled: "My Humble Response To The Request That I Sould Withdraw My Letter Of Resignation."
The letter reads: "Three weeks ago, I wrote to inform Ilana Omo Oduduwa that I was resigning from my leadership position in the organization.
"I made it clear that my resignation was due only to the need for me at my advanced age to trim off my responsibilities in Ilana in order to devote my energies to pressing challenges in the higher spheres of our Yoruba Self-determination Struggle.
"Since then, I have received from all sections of Ilana messages or letters rejecting my resignation and urging me to continue to make the sacrifice of leading Ilana.
"In the course of the past week, I have been visited for the same purpose by leading persons representing the Elders Advisory Council, the Ilana Secretariat, and the two formerly differing sections of Ilana.
"I have also had the honour of being visited by Prince Peter Bamgbade who is recognized in the whole Yoruba Nation as a major influence for reconciliation and harmony among Yoruba people.
"Further to the above, a coalition of Ilana Omo Oodua Worldwide (IOOW) affiliates groups both in the diaspora and homeland converged in Ibadan a few days ago to revalidate and reaffirm my leadership of Ilana Omo Oodua Worldwide (IOOW) and also urged me to withdraw my resignation as leader.
"I thank Prince Bamigbade for his goodwill interventions in the family of Ilana. In this circumstance, I hereby give up my earlier resignation decision and announce my return to my leadership position and role in Ilana.
"I appreciate the fact that in the course of appealing to me to return to my Ilana position, various sections of Ilana have accepted the need for greater harmony in Ilana, so that Ilana may return to its well-known unity and strength in our nation's self-determination Struggle.
"This has made me very happy indeed, and it has given me serious encouragement to return fully to Ilana.
"As I now return, I expect cooperation, mutual respect, brotherliness and disciplined conduct from all our members at home and in the Diaspora.
"As a disciplined self-determination organization crucial to the realization of our collective resolve to exit the contraption called Nigeria, there is an immediate need to harmonise and unify all the tendencies in IOOW.
"I hereby use this opportunity to announce the dissolution of all IOOW factions largely brought about by infiltration of our rank and file by adversaries within and without.
"To the glory of God, the Yoruba quest for self-determination is now in its final step towards victory. As is common to struggles in the final stages, the tensions are high, and the need for responsibility and discipline are very high.
"I am confident that Ilana will be a leading contributor to the discipline that will move our nation's whole struggle to ultimate victory.
"We shall soon welcome our ORILEEDE YORUBA, where our Yoruba people will live in peace and security, and where our Yoruba Nation will quickly become a nation of prosperity, power and beauty in the world.
"Let us give thanks to God for giving us His light and strength for these final steps of our journey to our ORILEEDE YORUBA."