Baruwa returns unopposed as NURTW president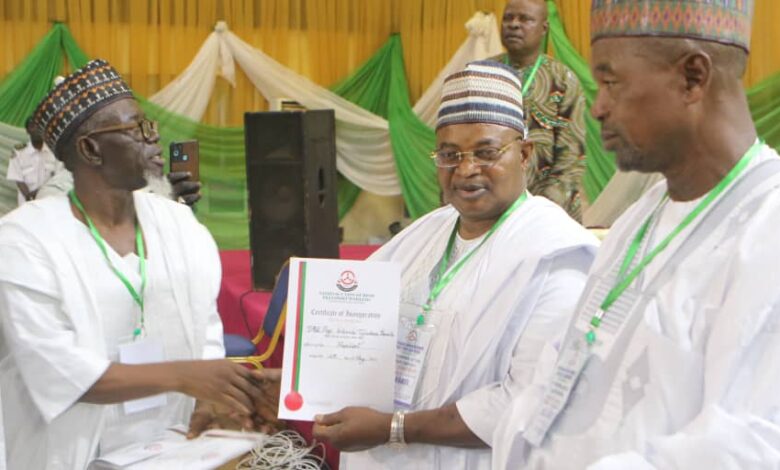 The National Union of Road Transport Workers ( NURTW ) has returned its President, Tajudeen Baruwa, unopposed for a second term of four years.
Baruwa will head a 17-member National Administrative Council (NAC) of NURTW who were equally elected to administer the affairs of the union for the next four years.
Baruwa alongside other national executive members were sworn in on Wednesday night during the 10th Quadrennial National Delegate Conference held in Lafia, Nasarawa State following their election at the Special Zonal Delegates Conference on May 24 2023 in line with the constitution of the NURTW.
Performing the swearing- in, the External Legal Adviser, Sunday Oluwole, on behalf of Tolu Babaleye & Co., charged the officials to uphold the constitution in piloting the affairs of the union for the next four years.
In his acceptance speech, Baruwa expressed gratitude to the delegates and members of the union for the confidence they reposed in him just as he promised to carry everyone along and not to let them down.
The conference was attended by 33 states including Federal Capital Territory (FCT) with five delegates from each state.
The communique jointly signed by Baruwa and the General Secretary Anthony Chukudi, issued at the end of the event commended the steps taken so far by President Bola Tinubu to revamp the economy for the overall interest of the people.
The communique read in part, "The conference in session after critically assessing President Tinubu administration though less than three months in office, expressed satisfaction with the steps taken so far towards revamping the economy of the country for the overall benefit of the people.
"We also express our support to his administration's policies and program with the belief that if transparently implemented it will reduce hardship being encountered by the masses.
"We want to also express our gratitude to to the Inspector General of Police and the Commissioner of Police Nasarawa State and other security agencies for their cooperation and understanding by providing security leading to the success of the 10th National Delegates Conference where the elected National Administrative Council Officers were nominated and elected at the six Special Zonal Councils delegate conference of the union concurrently in 24th May 2023 were finally inaugurated," he said.