Benue says Orkar, leader of 1990 coup against IBB is a hero, names road after him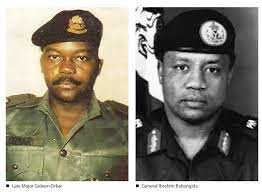 Governor Samuel Ortom of Benue State on Tuesday named a 9.7km road connecting Makurdi to Apir after the late Major Gideon Orkar.
Orkar was killed by a firing squad for masterminding a failed coup against the regime of Gen. Ibrahim Babangida (rtd) in 1990.
Late Orkar, who hailed from Benue State, and his conspirators seized the FRCN radio station, various military posts around Lagos, as well as Dodan Barrack, Lagos, which served as the military headquarters and Presidential Villa at the time.
Babangida was present when Dodan Barrack was attacked but managed to escape by a back route.
In his coup address, Orkar called for the excision of five northern states, alleging that the Babangida regime marginalised the South.
However, the coup was crushed and Orkar together with 41 other coconspirators were tried, convicted of treason and executed by firing squad on July 27, 1990.
Commissioner for Information, Benue State, Mike Inalegwu, told journalists in Markurdi on Tuesday that the decision to immortalise Orkar was taken at the meeting of the State Executive Council.
According to him, the State Executive Council, at the meeting, declared that everything that Orkar said then had come to pass, hence, its decision to immortalise him.
Inalegwu said: "To recognise one of its heroes, the Executive Council today decided to name a 9km township road that burst out at Apir after the late Major Gideon Orkar.
"When Orkar came out with that broadcast, nobody took it seriously but today all that Orkar said in that broadcast has come to pass. So, we, in Benue State, have come to realise that Orkar meant well for this country.
"So, in the council meeting today, we resolved that a street should be named after Gideon Orkar and that is to tell Nigerians that Orkar had prophesied about what the country is facing today and unfortunately, he was executed. The 9.7km road that bursts out at Apir will be named after Gideon Orkar."
(The Punch)