BREAKING: Stock market rally, gains N1.5trn on Tinubu's optimistic policy pronouncement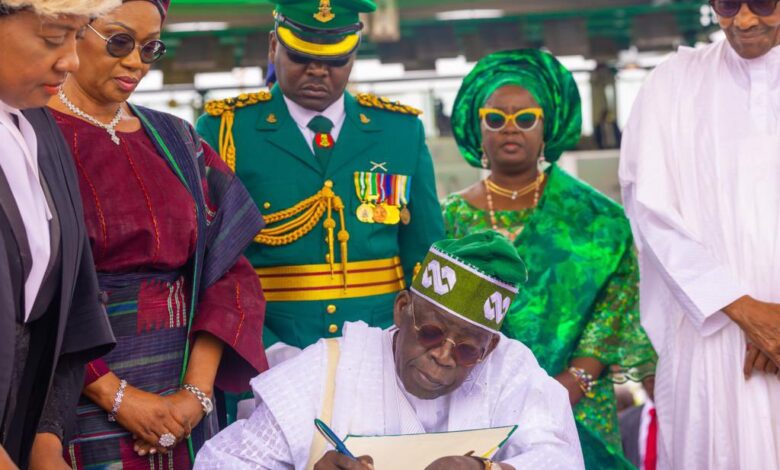 The stock market of the Nigerian Exchange Limited (NGX) appreciated by N1.5trillion amid President Bola Tinubu's plans to remove subsidies on fuel and the Central Bank of Nigeria (CBN) unification of exchange rates.
The market capitalisation opened for trading at N28.845trillion on Tuesday, gaining N1.5trillion when it closed at N30.350trillion, while the NGX All-Share Index gained 5.22 per cent or 2,764.47basis points to 55,738.35 basis points from 52,973.88 basis points it opened for trading.
Tinubu in his inaugural address on Monday said, "We commend the decision of the outgoing administration in phasing out the petrol subsidy regime which has increasingly favoured the rich more than the poor.
"Subsidy can no longer justify its ever-increasing costs in the wake of drying resources. We shall instead re-channel the funds into better investment in public infrastructure, education, health care and jobs that will materially improve the lives of millions.
"The Central Bank must work towards a unified exchange rate. This will direct funds away from arbitrage into meaningful investment in the plant, equipment and jobs that power the real economy.
"Interest rates need to be reduced to increase investment and consumer purchasing in ways that sustain the economy at a higher level."
In Tuesday's trade, stock market breadth index was significantly positive with 64 gainers against 12 losers.
Eight stocks including Jaiz Bank Plc, Nigerian Breweries, Eterna, Zenith Bank, FCMB Group, Sterling Bank and Deapcap gained10per cent to top gainers.
Access Corporation added 8.33per cent, becoming the most actively traded stock with about 200 million units of shares worth about N2.4 billion.
Sector Performances revealed that the NGX Banking Index expanded by 8.20per cent, driven by the gains printed in Sterling Bank, Zenith Bank, and Jaiz Bank that gained 10 per cent ,respectively.
NGX Industrial Index advanced by 7.41per cent, on the back of the positive sentiment seen in Dangote Cement that rose by 7.41per cent. Lafarge Africa appreciated by 6.52 per cent and Berger gained 5.75per cent.
NGX Consumer Goods Index rose by 6.41per cent, caused by the increase in prices of NB (+10 per cent), Dangote Sugar (+9.50per cent) and Nascon (+9.42 per cent).
In addition, NGX Oil and Gas Index increased by 4.04per cent, due to the bullish trend observed in ETERNA (10 per cent), CONOIL (+9.91 per cent) and Total (+9.24 per cent).
Analysts at InvestmentOne Research said: "The local bourse closed positive today due to the buy-interests recorded across major sectors.
"Going forward, we expect investor's sentiments to be swayed by the search for real positive returns and developments in the interest rate space.
"We reiterate that this may be a great period to pick up some quality names with a medium to long-term investment horizon."