Buhari in Lagos, commissions Lekki Deep Seaport, Rice Mill in Imota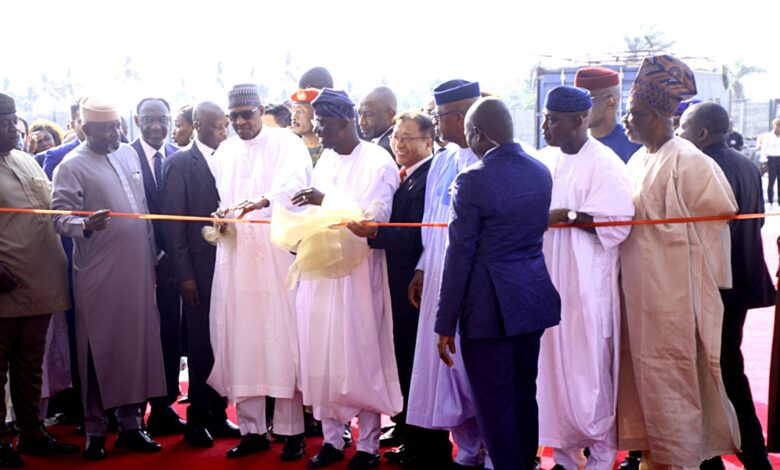 President Muhammadu Buhari has arrived Lagos on a two day visit for a "Lagos Festival of Projects" commissioning.
The Presidential aircraft touched the ground at 3:33pm and the President was received by Lagos State Governor, Mr. Babajide Sanwo-Olu, his deputy, Dr. Obafemi Hamzat and members of the State Executive Council.
Governors Biodun Oyebanji (Ekiti) and Dapo Abiodun (Ogun) and former Governor of Ekiti State, Dr. Kayode Fayemi, Service Chiefs, among others also received the President.
President Buhari was welcomed at the Presidential Wing of Lagos Airport with pomp and pageantry by the Lagos State Cultural Troupe.
He inspected the guard of honour at the Parade Ground before he flew out of the airport in an helicopter.
President Buhari then moved to Lekki, where he cut the tape and commissioned the Lekki Deep Sea Port.
Governor Babajide Sanwo-Olu thanked President Buhari for coming to commission the project.
He said: "Mr President this project started in your time and I am glad we are able to commission it during your time. It would handle four times the capacity of cargoes being handled by Apapa and Tincan port."
President Buhari then moved around the port to look at the operations within the facility.
Before the arrival of President Buhari, Executive Secretary, Nigeria Shippers Council, Emmanuel Jime said the Port is a "game changer in the Nigerian Maritime space" to deliver on the needs of the people, adding it "represent a dynamic change as far as the Maritime domain is concerned".
According to him, it would facilitate conducting business seamlessly, with reduction in "the cost of doing business at the lowest ever."
Commissioner for Commerce, Industry and Co-operatives, Dr. Lola Akande said the idea of the Port was conceptualised in 2006 by the Tinubu's administration, adding that the vision became a reality and the "project no doubt would complement existing port infrastructures in Lagos and in Nigeria."
She added that the Port would strengthen the status of Lagos as the hub of investment in Africa.
The Onilekki of Lekki, Olumuyiwa Ogunbekun, appreciated the state government for what he said "was serious development of the economy in Lagos", recognisig the role of Tinubu in laying the foundation to open up the axis for economic development of the state and the country.
He said the community would continue to cooperate with the government and all relevant stakeholders.
President Buhari also commissioned the Imota Rice Mill, which Governor Sanwo-Olu described as the biggest in sub-saharan Africa.
He enouraged Nigerians to eat home grown food.
On Tuesday President Buhari is expected to commission the First Phase of the Blue Light Rail from Mile Two to Marina and the John Randle Centre for Yoruba Culture and History.
He will also commission a private project, MRS Lubricant, Apapa.