Buhari hails Chef Hilda's cooking World Record achievement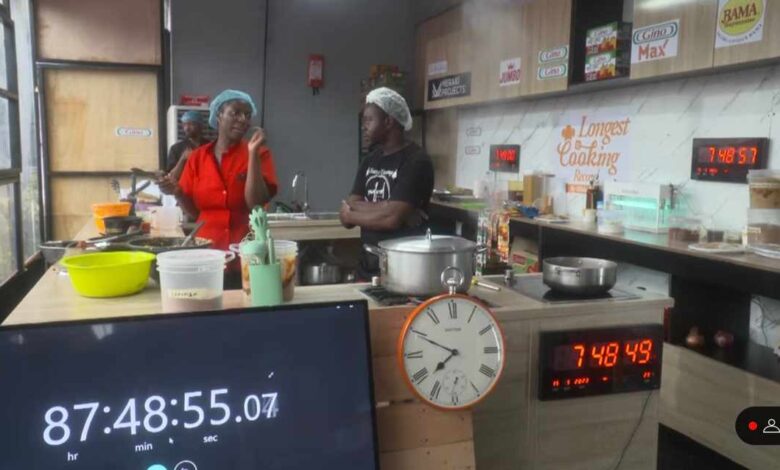 President Muhammadu Buhari has expressed his delight and admiration for 27-year-old gourmet chef Hilda Bassey Effiong, known as Hilda Baci, as she sets a new world record for the longest hours of cooking.
The president in a statement by his Special Adviser on Media & Publicity, Femi Adesina, said this remarkable achievement has not only secured her a place in the prestigious Guinness Book of Records but has also brought Nigeria into the international spotlight.
President Buhari also commended Hilda Baci for her exceptional talent and dedication, which she has transformed into a successful career, while acknowledging the impact of her culinary expertise on the economy through her restaurant in Lagos and her efforts in training other aspiring chefs on entrepreneurship.
"The President lauds Hilda Baci for turning her talent and passion into a career, with a rippling effect on the economy as she runs a restaurant in Lagos, and trains other talents on entrepreneurship, and now leads the world in resilience, perseverance, and consistency in cooking," the statement read.
Hilda Baci's culinary prowess was already evident when she emerged victorious at the Jollof Face-off Competition in 2021, impressing judges with her mouth-watering dishes. Notably, her culinary skills settled the longstanding debate between Nigeria and Ghana over who prepares the best jollof rice, firmly establishing Nigeria's claim to this beloved African dish.
President Buhari believes that Hilda Baci's achievements have significantly raised the profile of Nigerian cuisine and its unique flavors. By placing Nigeria on the map as a culinary destination, she has become a cultural icon with immense potential for tourism development. The President hopes that her success will inspire more young people to pursue their passions and contribute to the growth of the nation's culinary industry.
The President also extended his gratitude to the sponsors of the Hilda Baci Cook-a-thon, government officials, including Governor Babajide Sanwo-Olu of Lagos State, celebrities from the music and film industry, as well as Hilda Baci's devoted fans for their unwavering support.
He said their collective efforts have not only propelled Hilda Baci to new heights but have also brought immense pride and honor to Nigeria.
President Buhari also conveyed his heartfelt wishes for Hilda Baci's continued success and a prosperous career filled with groundbreaking achievements that will further showcase Nigeria's culinary excellence to the world.