Buhari to confer GCFR, GCON on Tinubu, Shettima May 25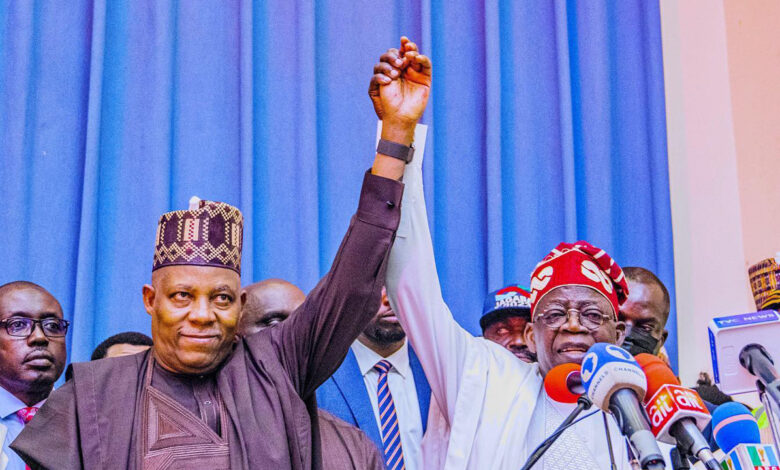 …ex-Kenya President Kenyatta to deliver Inauguration Lecture
President Muhammadu Buhari is set to confer National Honours on President-elect, Bola Ahmed Tinubu and his Vice President-elect, Kashim Shettima, on Thursday, May 25th.
The prestigious awards to be bestowed upon them are the National Honours of Grand Commander of the Federal Republic (GCFR) and Grand Commander of the Order of Niger (GCON) respectively.
Tolu Ogunlesi, the President's Special Assistant on Digital and New Media, disclosed this in a statement on Twitter, announcing the upcoming event.
In addition to the conferment of honors, the President will officially hand over Transition Documents to the incoming administration on the same day.
The investiture of the President-elect and Vice-President-elect with the National Honors of GCFR and GCON was also confirmed by Secretary to the Government of the Federation and Chairman of the Presidential Transition Council, Boss Mustapha, who said the event will take place at the State House Conference Centre in Abuja.
Mustapha also revealed that an Inauguration Lecture, titled "Deepening Democracy for Integration and Development," will be delivered by His Excellency Uhuru M. Kenyatta, former President of Kenya, on Saturday, May 27th.
Following the lecture, a Children's Day Program featuring a parade and party for kids will be held. The schedule of activities for the 2023 Presidential Inauguration includes an Inter-denominational Church Service at the National Christian Centre on Sunday, May 28th, at 10:00 am. Later that day, an Inauguration Dinner/Gala Night will take place at the State House Conference Centre.
The highlight of the inauguration events will occur on Monday, May 29th, with the Inauguration Parade and Swearing-In ceremony at the Eagle Square at 10:00 am. A Post Inauguration Luncheon will follow the proceedings.
Boss Mustapha assured the public that comprehensive measures have been put in place to ensure the safety and security of all individuals throughout the inauguration period.