Canadian High Commissioner hails Adeleke on improvement in mining sector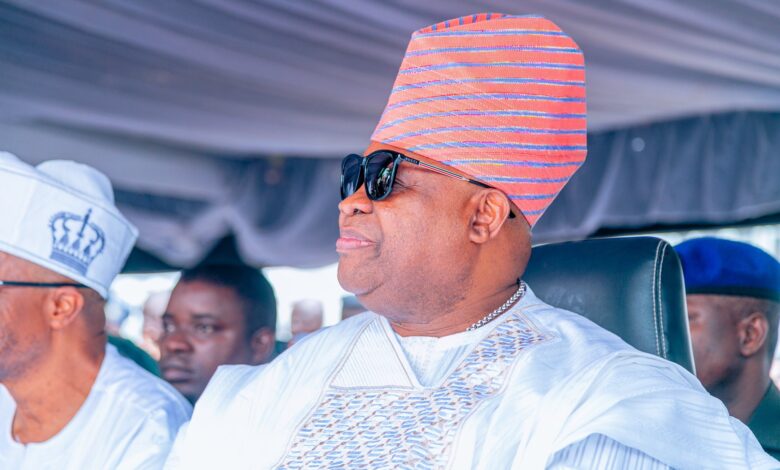 High Commissioner to Nigeria, James Christoff, on Tuesday stated that he is impressed with the focus and performance of the Ademola Adeleke led Osun State Government adding that Governor Adeleke should be commended for his effort in the improvement of the mining sector.
The High Commissioner who is on a visit to the historic and tourist centres in Osun stated this at the Government Secretariat, Osogbo stressing that the framework for a beneficial relationship between Canada Government and Osun would be worked upon.
Chirstoff who spoke on how Canada can support Osun on Culture, Tourism, Global Investment and mining stressed further that Osun state government should be commended for its effort on Climate Change adding that other states in Nigeria are looking to emulate Osun in that regard.
He said, "I'm impressed with the focus of the Governor, and everybody who is working with him, the Deputy Governor and Secretary to the State Government and every other persons who have made presentations earlier .
"There is a lot of talent here, and I think is high time investors started looking at coming down to Nigeria and Osun to see for themselves what I have seen since I got here yesterday.
"In the areas of culture, tourism, global investment and mining there is so much that we are doing in Canada and we can create an opportunity for partnership, like its been said in all the presentations.
"In the area of mining, Governor Adeleke should be commended for the improvement made on mining regulations and also in the mining sector of the state and also in Climate Change, thank you for taking the lead, I am sure all the other states are looking at taking the same steps".
Speaking on behalf of the Governor, Prince Kola Adewusi, the Deputy Governor of Osun State urged the High Commissioner and his team to ensure that the relationship that is about to be created is not left to rotten away and should be built upon with continuous communication.
He stressed further that the doors of Osun state government is open to global investors for collaborations and partnerships adding that a fair and leveled playing ground as well as adequate security will be provided.
"Please I want to urge the High Commissioner and his team to ensure that this relationship we are building today doesn't just end at the visit but we build upon it by communicating regularly such that results are seen in terms of partnership and collaboration between the Osun state government and Canadian Government.
"Being a new administration, the door of Osun state is open to foreign and global investors and I can assure you that a fair and leveled playing ground as well as adequate security will be provided to all Investors", he said.
Earlier in the meeting, the Commissioner for Culture and Tourism- Hon Abiodun Ojo; Commission for Agriculture- Hon Tola Faseru; Commissioner for Innovation, Science, Communication and Technology- Hon Maruff Ayodele Ayofe; Special Adviser Global Investment to the Governor- Hon Yemi Owolade and Special Adviser to the Governor on Mining and minerals resources- Prof Lukman Jimoda had made series of presentations to detail the areas of opportunity for investment in Osun state.
Signed:
Mallam Olawale Rasheed
Spokesperson to the Osun state Governor