CDS offers support to Golf for Peace Tournament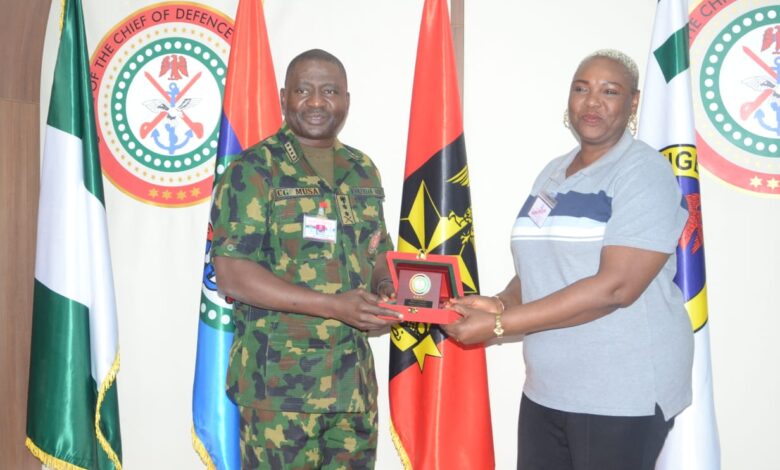 The Chief of Defense Staff, General Christopher Gwabin Musa, has offered his support to a golf tournament promoting peace.
The tournament, scheduled for November 25, 2023, at IBB Golf Course and Country Club, aims to bring together prominent military personnel, influential figures, and avid golf enthusiasts from various nations, backgrounds, and ideologies.
The Chief of Defense Staff met with a team of peace advocates, led by Kemi Olowoyo-Otegbade, the initiator of the Golf for Peace Tournament, on October 28, 2023.
During the meeting, he expressed his enthusiasm and appreciation for the initiative, recognizing the power of sports to transcend political, religious, and cultural barriers.
"Sports, by their very nature, promote fair competition, teamwork, and respect for rules. These values, when embraced, can transcend societal divisions and unite individuals from diverse backgrounds, fostering a sense of shared humanity," he said.
He also stressed the importance of showcasing peaceful alternatives to conflict resolution. By organizing a golf tournament promoting peace, the focus would shift from traditional militaristic approaches to peaceful endeavors that prioritize dialogue, cooperation, and understanding.
"This demonstration of non-violent conflict resolution could inspire individuals, governments, and organizations to explore similar initiatives, ultimately contributing to a more harmonious world," he added.
The team thanked the Chief of Defense Staff for his support and invited him to be the Special Guest of Honour for the tournament. They also shared their vision and goals for the tournament, which include:
Providing a platform for diplomatic dialogue among participants from different nations, backgrounds, and ideologies.
Building bridges of trust between military personnel and civilians by engaging in friendly competition and conversations outside traditional military contexts.
Inspiring a global movement towards peaceful resolutions by showcasing the positive impact of sports.
The Golf for Peace Tournament is an innovative initiative that aims to foster peaceful dialogues and collaborations through sports.