At Christmas carol, Sanwo-Olu says a greater Lagos is rising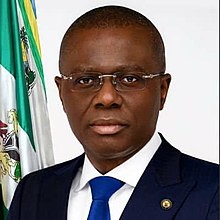 Governor Babajide Sanwo-Olu on Thursday thanked Lagosians for supporting his administration in the last three years, noting that a greater Lagos is rising.
He made this known at the 2022 Christmas carol service with the theme: 'A Stone of Grace' .
Sanwo-Olu said" "It's been a wonderful journey and we believe that with you working with us, a journey of a greater Lagos is just rising. It shall rise and rise with all of you rising high with us, today tomorrow and forever. It has been an honour to be your governor at this time.
"Today we also remember a man that has played his part in Lagos and Nigeria, who was Nigerian ambassador to Spain, Demola Seriki who died this morning . I pray his soul rest in peace."
Also speaking, Commissioner for Home Affairs, Prince Anofiu Elegushi in his address thanked God for another Christmas carol of Nine Lessons.
He said: "We cannot thank God enough for all the blessings He has showered upon each and everyone of us from the beginning of the year till date.
"We are indeed grateful to the Almighty for keeping us and helping our dear State to achieve the successes recorded so far with the readiness to bring more smiles to the faces of our people.
"The end of the year is a period of sober reflection, a time to take stock of all activities from the beginning of the year in order to express our gratitude to the Most High for His divine intervention in Lagos State. Despite our challenges, we are still standing tall by His grace. I beseech us all to count our blessings and give thanks because He has indeed been faithful."