Controversy trails ownership of Osun govt secretariat as Ataoja, Timi say status quo remains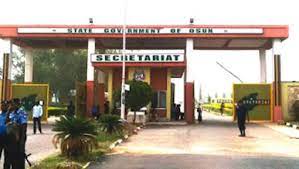 By Deborah Oladejo, Osogbo
Indigenes of Ede, the hometown of Governor Ademola Adeleke have resuscitated the controversy over the ownership of the land on which the Osun State Secretariat, Abere, was built.
People of Ede claimed that the secretasriat was built on their land by former governor Bisi Akande, hence, the nomenclature should change from Osun State Secretariat, Abere, Osogbo.
The latest controversy was stoked by a viral video by a woman, identified as the Iyalode of Abere town, Chief Mujidat Olaniyi, who said that to avert crisis, the name Abere should not be linked with Osogbo.
The woman, it was gathered had gone to speak at the palace of Alabere of Abere town, saying that every announcement that anyone wants to make about the Osun state government secretariat must be Abere, Edè, because the edifice is on Ede land.
She said: "Any jingle they want to do, they should let people know that it is Abere, Ede because it is not Osogbo land. We are not fighting but they should let the name sound on people's ear that it is Abere, Ede."
However, Ataoja of Osogbo, Oba Jimoh Oyetunji Olanipekun and Timi of Ede, Oba Munirudeen Lawal on Sunday affirmed that there was no conflict or controversy over the status, the location and naming of the secretariat.
The royal fathers jointly issued a statement, made available to journalists by the spokesperson to the Governor, Olawale Rasheed, which noted that status quo remains on the matter.
The letter reads: " Our attention has been drawn to rumors and wild insinuations about the status of Osun State Government Secretariat. As royal fathers of Osogboland and Edeland, we affirm there is no conflict or controversy over the status, location, and naming of the state government secretariat.
"We want to reassure our people that the status quo remains as the state government has not acted in any way to deny any community of their rights and privileges. We blame political forces for attempting to politicize the issue to foment trouble and destabilize the state.
"We call on our people at home and abroad to continue to ensure peaceful co-existence across their communities. As royal fathers, we are convinced the administration of Governor Ademola Adeleke has a genuine intention to deepen inter-community peace and partnership for the development of our dear state."