Dangote refinery awards scholarship to 460 students in host communities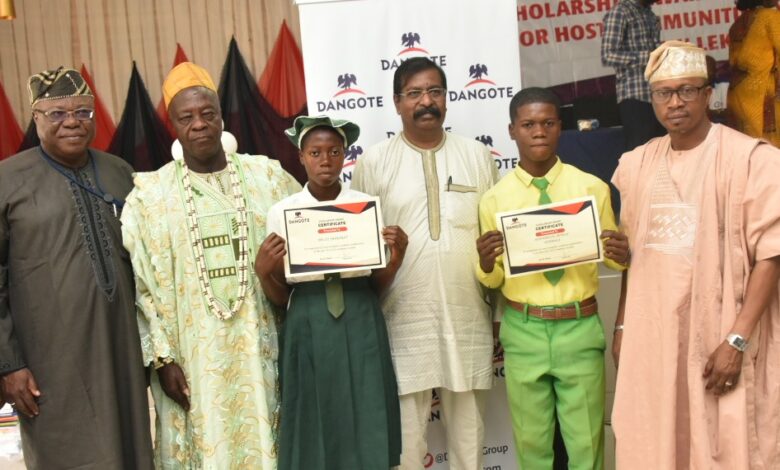 As part of its Corporate Social Responsibility (CSR) programmes, Dangote Petroleum Refinery and Dangote Fertiliser Limited has awarded scholarships to 460 students of secondary schools and tertiary institutions from its host communities in Ibeju Lekki, Lagos State.
The company said the scholarship had become an annual event meant to contribute to the educational development of the people and position them rightly in the scheme of things in Lagos State and Nigeria in general.
The scholarships were presented to 443 secondary school students and 17 tertiary institution students from its host communities around Ibeju-Lekki.
Group Executive Director, Strategy, Capital Projects and Portfolio Development, Dangote Group, Mr. Devakumar Edwin, presented the scholarships to beneficiaries on Wednesday at an event attended by traditional rulers and government officials.
Edwin said the Dangote Group believes that education is the passport to the future and that an investment in knowledge yields the greatest dividends for mankind.
He said the company had over the years supported the Nigerian educational sector by instituting scholarship award programmes.
According to him, this is part of the company's education intervention initiative for indigenous students of host communities impacted by its businesses
 On his part, the traditional ruler of Lekki, Onilekki of Lekki Land, Oba Liasim Ogunbekun said that the programme was a blessing to the community and gave kudos to the Dangote Group.
"We appreciate Dangote Group because this is not their first time but their third scholarship edition to the host communities in Ibeju Lekki.
"I urge the beneficiaries to put in more effort in their academic pursuit and justify the amount being paid for the scholarship.
"We thank the Dangote Group because a lot of improvement have been recorded in the lives of the participants," Ogunbekun said.
One of the beneficiary of the City & Guilds Engineering training programme, Raheem Olukayode thanked Dangote Group for the opportunity to study, become an engineer and impact positively to the society.