Dangote Refinery will generate $21bn, to employ over 100,000 youths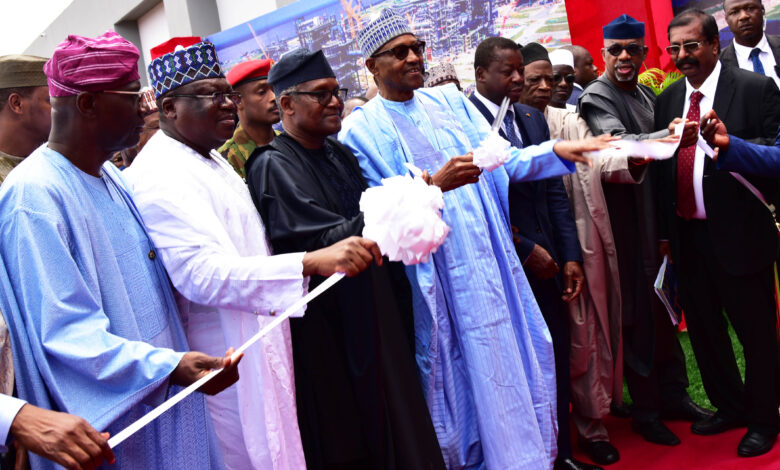 Amid encomium from eminent personalities, which included President Muhammadu Buhari and five other African heads of state, President of the pan-African Conglomerate, Dangote Industries Limited (DIL), Aliko Dangote disclosed on Monday that the newly commissioned 650,000pbd refinery would employ over 100,000 Nigerians youths.
He also said the edifice will generate over $21 billion, thereby saving the country huge forex, that would have been used for fuel importation.
The company, according to him, now has over 33,000 employees.
Much to the excitement of Nigerians, Dangote said the commissioning has marked the beginning of the new journey of the self-sufficiency in refined petroleum products and exportation of same just as been achieved in Cement and lately fertilizer.
Dangote lamented that the current fuel crisis has had negative impact on the nation's economy and that informed his decision to build a world class refinery that would change the trend and that though faced challenges but decided to trudge on.
He highlighted events leading to his firm deciding to build its own refinery after his attempt to acquire one of the existing moribund did not materialize noting that he decided to change marketing strategy and settle for gigantic project ever undertaken by an individual world over.
According to him, the refinery plant would be run at the highest effective and efficient level for maximum benefits to all Nigerians noting "we will replicate what we achieved in cement and fertilizer by attaining self-sufficiency and becoming net exporter.
Dangote assured Nigerians that 40 per cent of the production capacity will be available for export with the coming on stream of the plant guaranteeing raw materials for plastic, and pharmaceutical industries.
In his remark, President Muhammadu Buhari congratulated Dangote Group, saying "the 650,000 barrels a day of crude which will enable our country to achieve self-sufficiency in refined products and even have some supplies for export saying the government and people of Nigeria are proud of the doggedness and tenacity of Dangote as entrepreneur."
He noted that the economy which has been stressed for many decades by huge deficits in economic infrastructure and over a decade of insurgency has also been severely impacted by several external crises, including the global financial crisis, the collapse of world crisis the Coronavirus pandemic and the Russia Ukraine war.
Governor of Central Bank of Nigeria (CBN), Mr. Godwin Emefiele while commending Mr. Dangote for the successful completion of the refinery project, said it would not only aid that nation's domestic petrol needs, but also help in generating export revenues for our country.
"In September 2013, when Alhaji Aliko Dangote announced his plans for the refinery, it was estimated to cost about US$9 billion, of which US$3 billion was projected as equity investment by the Dangote Group and the balance financed through commercial loans.
"Due to an array of factors, the project was eventually completed with a total of US$18.5 billion with funding distributed into 50 percent equity investment and 50 percent debt finance. I am proud to state that the commercial loan component of the project was financed majorly by our domestic banks with the balance sourced from foreign banks.
"The Central Bank of Nigeria also partnered, as always, with the Dangote Group in ensuring the successful completion of the project by providing about N125 billion, to cover domestic currency requirements for the venture.
"What you may not be fully aware of, Your Excellencies, is that the Dangote Group has started repaying some of the commercial loans even before the commissioning of this facility. This reflects the commercial capability of the Group and its Chairman. I am pleased to inform everyone today that, following extensive repayments, outstanding debt has dropped appreciably from over US$9 billion to US$3 billion," Emefiele said.
The CBN Governor commended Nigerian banks saying they did not only partnered with the project through effective financing but were keenly aware of the importance of the project for our nation.
In their respective goodwill messages, Presidents of Ghana, Senegal, Niger, Benin Republic and Chad expressed satisfaction that the Dangote Refinery will serve the West African region and that their countries would be beneficiaries saying the Dangote Refiner is an African company for Africa by an African entrepreneur.