David Cameron appointed UK foreign secretary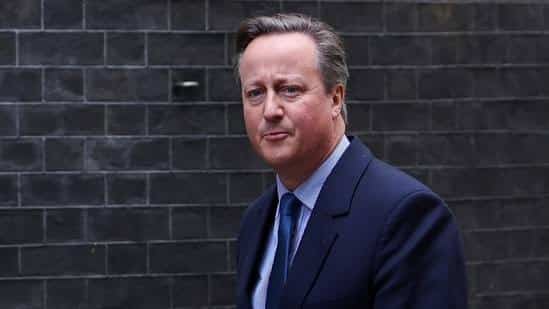 David Cameron has returned to government as UK foreign secretary, in a stunning comeback for the former prime minister that highlighted Rishi Sunak's willingness to take risks as he looks to revive his political fortunes.
Downing Street announced on Monday that Cameron would join the government, accepting a peerage in order to do so, as part of a wider reshuffle in which Suella Braverman was sacked as home secretary and replaced by the foreign secretary, James Cleverly.
A spokesperson also confirmed Jeremy Hunt would remain as chancellor. However, the environment secretary, Therese Coffey, who was deputy prime minister under Liz Truss, resigned from her position.
Cameron posted on X, formerly known as Twitter: "We are facing a daunting set of international challenges, including the war in Ukraine and the crisis in the Middle East. At this time of profound global change, it has rarely been more important for this country to stand by our allies, strengthen our partnerships and make sure our voice is heard.
"While I have been out of front-line politics for the last seven years, I hope that my experience – as Conservative Leader for eleven years and Prime Minister for six – will assist me in helping the Prime Minister to meet these vital challenges."
Cameron stood down in 2016 after losing the Brexit referendum, but reportedly told friends in 2018 he wanted to return to frontline politics, preferably as foreign secretary.
Since then he has maintained a relatively low profile, though he became embroiled in scandal two years ago when he lobbied government ministers to provide financing for the now-insolvent financial services company Greensill Capital.
He returned to the headlines last month when he said Sunak's decision to cancel the HS2 high-speed train line between Birmingham and Manchester was wrong, adding: "We are heading in the wrong direction."
Cameron has also been a strong supporter of the UK retaining its commitment to spending 0.7% of gross national income on international aid, a commitment Sunak has since junked.
Cameron said in his online statement: "Though I may have disagreed with some individual decisions, it is clear to me that Rishi Sunak is a strong and capable Prime Minister, who is showing exemplary leadership at a difficult time. I want to help him to deliver the security and prosperity our country needs and be part of the strongest possible team that serves the United Kingdom and that can be presented to the country when the General Election is held."
Sunak's decision to bring back Cameron is likely to please moderates in the Conservative party who have been dismayed by Braverman's aggressively rightwing rhetoric on issues such as immigration, policing and homelessness.
It could also fuel anger on the right of the party, especially given Cameron's last meaningful political action was to lead the failed campaign to remain in the EU.
Reacting to Cameron's appointment: Pat McFadden MP, Labour's National Campaign Coordinator, said: "A few weeks ago Rishi Sunak said David Cameron was part of a failed status quo, now he's bringing him back as his life raft.
"This puts to bed the prime minister's laughable claim to offer change from 13 years of Tory failure."
Source: UK Guardian