Dayo Duyile, PhD at 82, By Simbo Olorunfemi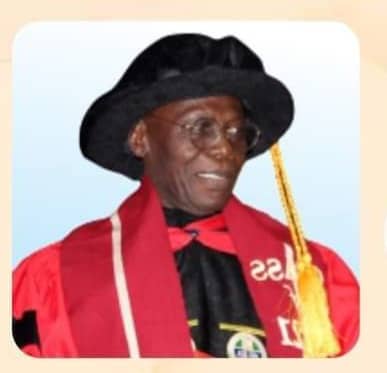 Last week, news broke that an octogenarian-veteran Journalist by the name Dayo Duyile was to be formally conferred with a PhD at this week's Unilag Convocation ceremonies.
Much was made of the age of the graduand, even if the newspapers couldn't quite agree on how old he exactly was. Different reports put his age between 80 and 83.
The moment I saw the report, my mind went to the only Dayo Duyile I know. Even though I had not heard much about him for many years, as I think he was said to have left Nigeria years back, but I felt it would indeed be a long shot expecting a coincidence in names and profession at that level.
In spite of his rich pedigree in the profession, Chief Dayo Duyile was more renowned, I would suggest, for his position as Director of the Nigerian Institute of Journalism (NIJ) back then, and since none of the early reports indicated that, I simply kept wondering, not having the chance then to check up, even as the photograph reminded me of the man.
Given what I know about the man and the large number of people in Journalism who passed through NIJ, where he was Asst. Director/ Director for 10 years, I found it strange that none of the reports in the major newspapers properly backgrounded their stories with that information and even his rich run in the profession.
The focus was on the fact that he reported the foundation laying ceremony of the institution and is now graduating with a PhD as an octogenarian, which is a good lead, no doubt, but whatever happened to the man between the report in 1962 and 2023?
That question should ordinarily come to the mind of a 'good' reporter. If not him, those higher up the rung in the newsroom who I would expect to know Dayo Duyile. Well, perhaps those who know him have all moved out of active professional practice.
Sometimes, one can't but wonder about the state of the profession, especially how professional hands have migrated away from the profession. A case of internal brain drain.
Good thing though, reporters started to dig days after. Premium Times, I think, was the first to reach out to him, to clarify his age which has earlier being wrongly reported. Many of these papers also began to update their stories, linking him to NIJ. Sun Newspaper would even go further to secure an interview with Dr Duyile.
Indeed, if anyone had made the effort to dig, they might have found a detailed interview conducted by The Guardian's Kabir Alabi Garba which is a comprehensive account of Dr Duyile's professional history. In that interview, he even spoke that he was on the PhD programme at Unilag.
The report also confirms my claim that he was out of the country for some time, after leaving NIJ. But he has been back in Nigeria since 1999 and has made a tour of a few universities as a Lecturer since 2006. He is currently with Elizade university.
That he settled for life in academics is not a surprise to me. Even as Director of NIJ, he was never far away from the classroom. He taught us "Ethics of Journalism" in the PGD class back then.
Indeed, Dayo Duyile is not just another veteran Journalist whose résumé can or should be reduced to covering the foundation laying ceremony of Unilag in 1962 and coming back to bag a PhD in 2023.
Chief Duyile began his career in Journalism in 1960 with "Southern Nigeria Defender" before moving to Nigerian Tribune and then Daily Times, for which he covered the treason trial of Obafemi Awolowo and others in 1963. He would later work with Daily Sketch and then WNBS/WNTV, before serving as Editor of Drum magazine, returning to Daily Sketch as Editor and acting CEO. He joined Concord at inception as Training and Manpower Development Manager. He would later join NIJ in 1986.
The story of Dr Dayo Duyile is every bit inspiring. If he can do it at 82, what is holding us back from our dreams? He said the major challenge he had pursuing the PhD was having to travel to Lagos from Ondo twice a week at his age.
I am glad that Chief Duyile, in achieving this feat, is receiving the attention due to him. I am happy that our General Taiwo One (TO) was able to mobilise some Journalism greats to host Dr Duyile to a reception in celebration of this accomplishment.
Dr Duyile says his life-long dream is to become a Professor. He is ramping up with more publications to enable him achieve that. I wish him well as he works to make this dream come true.