Defence minister, Air Force chief in Turkey to expedite delivery of attack helicopters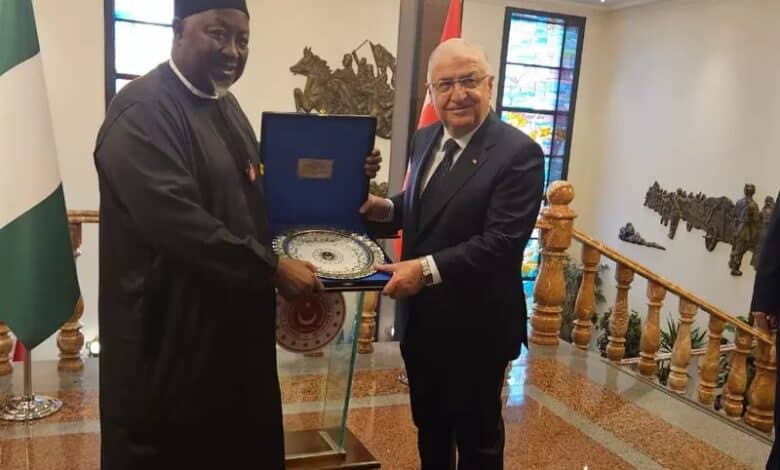 The Minister of Defence Mohammed Badaru Abubakar and the Chief of the Air Staff (CAS), Air Marshal Hasan Abubakar are currently in Turkey to facilitate the speedy delivery of the T-129 ATAK helicopters acquired for the Nigerian Air Force (NAF) by the Federal Government.
According to a press statement issued by the Director of Public Relations and Information of the NAF, Air Commodore Edward Gabkwet, the defence minister and the CAS held talks with their Turkish counterparts and visited some selected Turkish defence companies.
The statement said that the HMOD met with the Turkish Minister of Defence, Lieutenant General Yasar Guler (rtd), on critical bilateral and defence cooperation issues. General Guler promised the minister of every support required from the Turkish military and defence companies to further strengthen and accelerate the defeat of terrorism and other criminal challenges facing Nigeria.
The defence minister and the Chief of Air Staff also visited Turkish Aerospace Industries, MKE, Aselsan and Roketsan, which are among highly rated global defence companies renowned for the production of quality defence and military equipment. The minister called for improved synergy between the companies and Nigeria through the transfer of defence technology to Nigeria.
The Federal Government procured 6 T-129 ATAK helicopters from Turkish Aerospace Industry, out of which 2 are to be delivered to the NAF in the coming weeks. The remaining helicopters are expected before the end of Second Quarter of 2024.
The T-129 ATAK is a twin-engine, tandem seat, multi-role, all-weather attack helicopter based on the Agusta A129 Mangusta platform. It is equipped with a 20 mm gun, rockets, missiles and a helmet-mounted cueing system. It can perform close air support, armed reconnaissance, precision strike, fire support and deep strike missions.
The acquisition of these helicopters is expected to boost the operational capability and combat readiness of the NAF in its fight against insurgency and other security threats in the country.